Karista Bennett, chef and writer of Karista's Kitchen joins Pastry Craft this week to talk strawberries, strawberry tarts, and a recent trip to Italy. Karista is a personal chef and chef instructor, as well as a writer/recipe creator for DaVinci Wines and Vrai magazine.  I love Karista's simple, but fresh view of food. She regularly hits the classics (Green Goddess Dressing), while divulging in the fun (Caramel Corn), and always ends up coming up with something new (Ahi Tuna Tacos). In this classic tart, Karista brings us the taste of summer strawberries with a classic crostata crust. Although she calls for all-purpose flour, a white or whole wheat pastry flour would work equally well here.

Karista is also a good friend and one of the sweetest people I know. I met Karista while she was teaching at PCC Cooks in Seattle. A recent move has landed her in Corvallis, Oregon (fabulous farm country so she's happy), but it's easy to keep up with her through her engaging website, Karista's Kitchen. So check out Karista's recipes, her lovely writing and gorgeous photos. Karista is one to watch!

Thank you so much Chef Laurie for allowing me the honor of writing a guest post for Pastry Craft!
I'm Karista Bennett and I write the recipe website, Karista's Kitchen. Although my work is deeply trenched in the culinary arts, I admit, pastry is not my forte. However, over the years that I've known Chef Laurie, I've learned to love pastry and indulge in the artistry from time to time.
Oh, I certainly love to eat my share of pastry, but to make them is a different story. Until I attended a few classes taught by my friend and colleague, Chef Laurie Pfalzer. Laurie demystified the art of baking the perfect scone, the perfect pie and tempering chocolate. Each class was pastry heaven.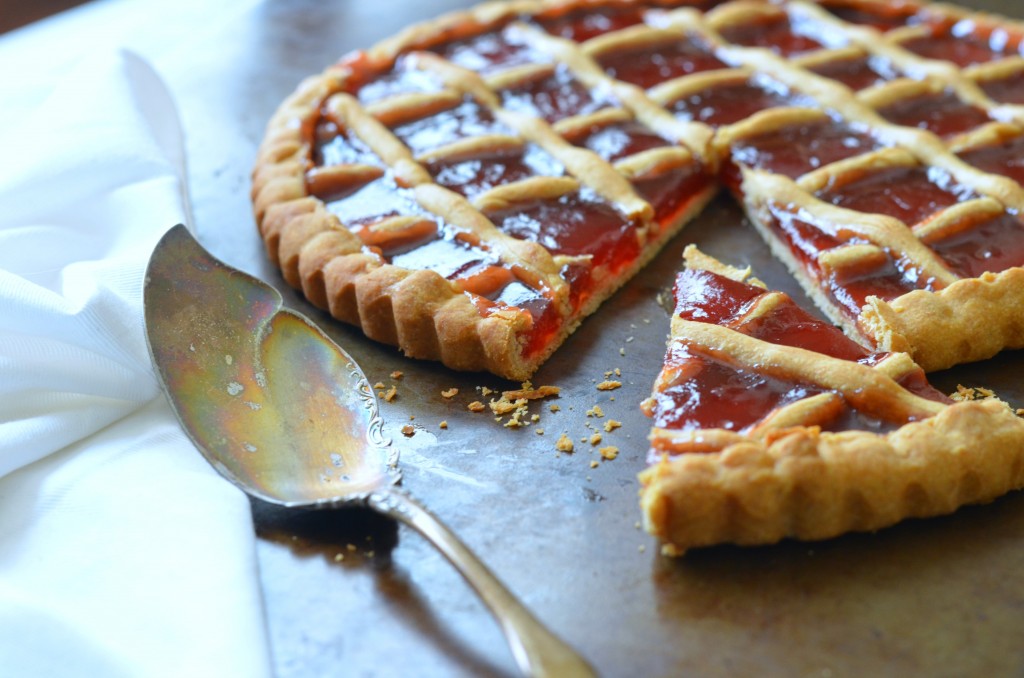 So when I traveled to Italy this past year, I was thrilled to attend a pastry class taught by a lovely lady we call Chef Ana. Chef Ana has been cooking her entire life. Her enthusiasm and love for all things food was infectious. Even as she demonstrated her Jam Crostata in Italian, I knew exactly what she was saying. Language was not a barrier, she was speaking my language after all. The language of food.
After a few moments of demonstration, she asked me to assist her. My heart leaped and I felt as if I were in a dream. The opportunity to bake with this lovely Chef was one of the many highlights of my visit to Italy.
When I arrived home, Chef Ana's Jam Crostata was one of the recipes I had to re-create. A simple and humble pastry that is rich with flavor and perfectly indulgent in texture. Chef Ana creates a light crust that isn't quite as crumbly as a pie crust. She adds an egg and a squeeze of lemon which gives her crust the perfect texture and taste that pairs beautifully with the jam.
Because it's strawberry season, I had to make this crostata with homemade strawberry jam. Nothing tastes more like summer than homemade strawberry jam. But I have to admit, I've also made this crostata with a homemade fig and ginger jam. Divine.
Jam Crostata doesn't last long in my house. It's eaten for breakfast, snack and dessert. On occasion a midnight snack… That would be me.
This sweet taste of Italy will delight the palate and soothe the pastry craving soul.
Delicious Wishes,
Karista
Strawberry Jam Crostata
Ingredients
2 cups all-purpose flour
1/3 cup sugar
1 stick of butter (8 tblsp) chilled and diced into small pieces
1 egg and 1 egg yolk
Juice of ½ lemon
Pinch of salt
Splash of vanilla (optional)
8-12 ounces of your favorite Strawberry jam (I also love fig jam in this tart)9-12 inch tart or pie pan
Directions
In a large bowl, lightly mix together all the ingredients with a fork and then using your hands, work the mixture to form a dough.
Once the dough is formed, wrap in plastic wrap and form it into a flat circle. Refrigerate for about 15-30 minutes.
Pre-heat the oven to 350F.
Divide the dough into ¼ and 3/4 pieces. The ¼ piece will be the lattice on top.
Roll out the larger piece of dough into a circle, large enough to fit in your tart or pie pan.
Now take the rolled dough and press it evenly into the pan. Using a fork, pierce the bottom of the dough several times. This will keep the dough from puffing up during baking.
Spread the jam evenly on the tart dough, leaving a little room around the edges for the lattice crust.
Roll out the remaining dough and cut into even strips with a pasta cutter or small knife. If the dough becomes too fragile, sometimes I roll pieces into long sticks (just like when we were kids playing with play dough) and then use those long stick pieces to create a lattice top on the crostata. As an option: let the kids get creative and use little cookie cutters to cut shapes to place on top of the crostata.
If I'm using a tart pan, once I place the lattice on top, I gently fold down the edges to create a more finished edge. This is definitely optional. It will be lovely and delicious however you prepare it.
Bake the crostata for about 30-35 minutes or until the crust is golden. Let the crostata cool for about 5-10 minutes before serving. The jam will be very hot.
*If doubling the recipe, this crostata can be made in a baking sheet pan using the same method.