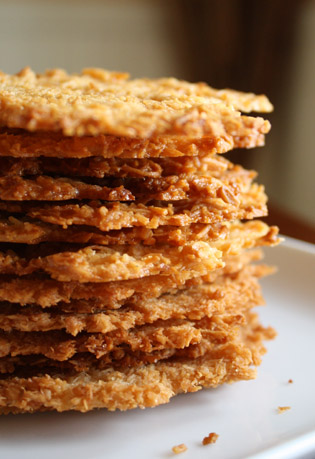 At a recent gathering with friends, I mused about the possibility that cooking is mostly about caramelization. Certainly, this is true with baking. The golden crust on a baguette – caramelization. The color of a croissant – caramelization. Any well-baked cookie – caramelization. There are plenty of technical reasons why caramelization is important in baking (the sugars and/or proteins in these items brown in baking to create both color and flavor), but the one thing to know is that it provides great flavor.  Think about any of these baked items I just mentioned without their golden crusts. They would be just faint shadows of their caramelized selves.
The savory side of cooking employs the same techniques resulting in the same properties.  Consider searing a beef roast before roasting in the oven. Beef Bourguignon would never be as flavorful without first flouring and then browning all sides of the meat cubes. Vegetables such as cauliflower and yams have their own sugars which, when roasted, produce distinct flavors. All due to caramelization.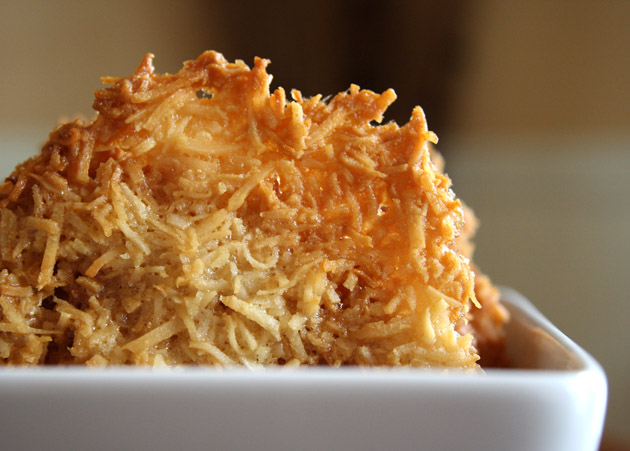 As I thought of caramelization in cooking these coconut tuiles came to mind.  Start with shredded, unsweetened coconut, add a little egg white, sugar, honey, a pinch of salt and a bit of butter.  Mix, form and bake.  It's in the baking of these crisp treats that they are transformed – because the added sugars as well as the sugars in the coconut began to caramelize, creating a golden and intensely flavored cookie.
When I was the pastry chef at Salish Lodge and Spa, these simple, crispy cookies became a mainstay on our bistro menu.  We served the tuiles on the sides of creme brulees, layered them with vanilla-roasted strawberries and whipped mascarpone and presented them  as a welcome amenity for guest rooms. A simple mix and a careful bake make these delicate coconut cookies a pleasure to make. Don't be deterred by the French term "tuile" which is just a thin, delicate and sometimes moldable cookie.
Be sure to use unsweetened coconut (either finely shredded or dessicated) in these cookies. Although I mostly bake on parchment, I bake these delicate cookies on a non-stick baking mat.  The baking mat makes it easier to remove the cookies after baking, as they tend to stick to parchment. An added bonus – these cookies are naturally gluten free.
Coconut Tuiles
Yield: about 18 cookies
1 ¼ cups (4 oz.) unsweetened shredded coconut
¼ cup (2 oz.) granulated sugar
2 tablespoons (1 1/2 oz.) honey
1 tablespoon (½ oz.) unsalted butter, melted
2 large (2 ½ oz.) egg whites
pinch kosher or sea salt
Combine all ingredients in a bowl and mix using a stand mixer and paddle or with your hands. Scoop portions with a 1/2 ounce scoop onto a non-stick baking mat – about 8 cookies to a cookie sheet.  With damp fingers, press out each mound to about 3-4 inches diameter making each cookie flat, even and generally round.  (I keep a small ramekin of water nearby and dip my fingers as needed to keep the coconut mixture from sticking to them.)
Bake the cookies in a 325F oven for 8-12 minutes, or until the cookies are well browned.  Let the cookies cool on the baking mat until they are hard and crisp.  If you're molding the cookies into shapes, let them cool for 1-2 minutes and then carefully pick up each cookie, mold it and set it on a cooling rack or cool baking sheet.  If the cookies get too cool to mold, return them to the oven for about 2 minutes to rewarm them.