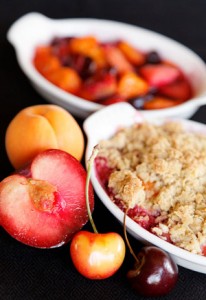 I've been spending a lot of time lately thinking about and cooking with stone fruits.  Cherries, apricots, peaches, nectarines, plums.  Of course, cherries are gone now and apricots are fading too.  But this is the heart of stone fruit season and in the Pacific Northwest, it can be a long time coming.  Any Northwest chef will tell you that waiting for summer fruit is a feat.  While all of the food magazines are cooking merrily along with California summer fruits, here in the Pacific Northwest we are waiting patiently.  It starts with rhubarb in late spring and on and on it goes until we get to apples and pears in September and it's over.  Sadly.  I love rhubarb and berries, but stone fruits hold a special place in my culinary heart.
When I was a child, our family always spent one camping trip east of the Cascades searching out u-pick peaches.  It was usually quite an escapade – Dad driving, Mom reading the map to the chosen farm and five kids in a station wagon.  Inevitably, we got lost, Dad got frustrated and Mom kept turning around to mime to us kids, "Be quiet!"  When we finally found the elusive farm, having 5 kids came in handy.  We'd pick a lot of peaches and later, eat a lot of peaches.  Back home, the peaches were canned and frozen and we enjoyed peach pies throughout the winter.
My first love of the stone fruits is the Italian prune plum.  Growing up, we had a prune plum tree in our backyard that often yielded more than 60 pounds of plums.  In early September when the plums were ripe, we'd pick them and then get busy canning and freezing.  Canned, the Italian Prunes turned deep red and achieved a deep sweet, acidic flavor.  They were a common dessert in our house straight from the canning jar, topped with a little ice cream or turned into a plum crisp or pie.  Many years later, the plum tree fell sick and had to be removed.  I've always missed that tree and often beg friends to be allowed to pick their lonely plums.
Italian Prunes are always my stone fruit of choice for cooking and baking.  It doesn't matter to me that they are often treated as the ugly stepchild of the stone fruit family.  Brought together with a little sugar or honey and cooked until tender, they have an amazing deep tangy caramel flavor and dark red color.  I've combined them with a little cinnamon or fresh ginger with great results and made a sweet and savory chutney with them.  It's tough to find them in the grocery store, but when you do, they're likely to be inexpensive.  Farmer's markets are the best place to find them in large volumes.  And they are a welcoming sign of early fall since they're a late plum.
In this recipe, I've combined the Italian prune plum with some of my favorite ingredients – honey, almond and lavender.  Lavender blooms in July, but I always dry some for use later in the season.  Lavender adds a light perfumed component to the deep plum flavor.  Be careful not to use too much.  A little lavender goes a long way. The topping recipe is my standby for crisp and in this version I've added almonds.  This recipe makes plenty of topping, so use what you prefer and freeze the rest for your next crisp.  Honey sweetens the plums and a little drizzle over the finished crisp makes the dessert.  Local honeys are abundant.  Choose a mild fireweed or maybe even a lavender honey if you really like lavender.  Serve the crisp with a small dollop of whipped cream or ice cream.
Italian Plum Crisp with Lavender, Almonds and Honey
1 ½ pounds Italian prune plums
¼ cup honey
1 to 1 ½ teaspoon dried lavender (to taste)
1 cup all-purpose flour
½ cup (4 oz.) butter
½ cup sliced almonds
1 cup brown sugar
1 cup rolled oats
Preheat oven to 350F.  Wash and pit plums.  Cut the plums into quarters.  In a large bowl, toss together the plums, honey and lavender.  (I like to break up the lavender by rubbing it between my palms as it goes into the bowl.)  Place the plum mixture into an 8 x 8 inch baking pan.
With your hands or in a mixer fitted with a paddle, combine the flour, butter, sugar and oats until the mixture starts to clump.  Add the almonds and mix just to combine. Spread about half of the topping evenly over the plums mixture.  Bake 350F for 30-40 minutes or until the plum filling starts to bubble and the topping is lightly browned.