13 years ago, my friend, Diane, had a great idea – an annual chick trip.  The Chick Trip, which began as a 3-day summer backpack, has morphed into semi-annual trips, summer and winter.  It's a time for the girls to get together, relax, catch-up, hike, and cook and eat great food.  Chicks have come and gone within the group, but the core stays true with old friends, new friends and sisters.  We've camped all over Washington, stayed in haunted lighthouses, wintered in Leavenworth, and canoed lakes.  We've cooked together – Greek, Mexican, French, Spanish, and Asian themed meals – and baked – cookies, brownies, pies, scones and lots and lots of fruit crisps. In September, we spent our 13th year together at Cristina's cabin on the Entiat River in Eastern Washington.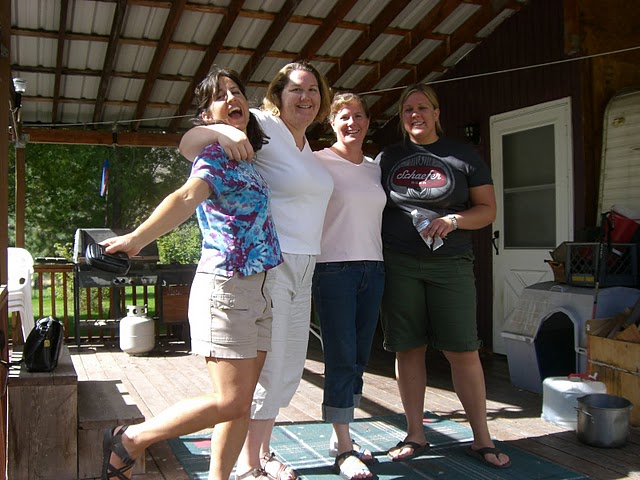 The Entiat is a spectacular area in the Cascade foothills.  Hot in summer and cold and snowy in winter, we visited at a mild time.  Orchards line the Entiat River Road.  Trees were heavy with fruit and pickers were hard at work on Bartlet Pears and apple varieties.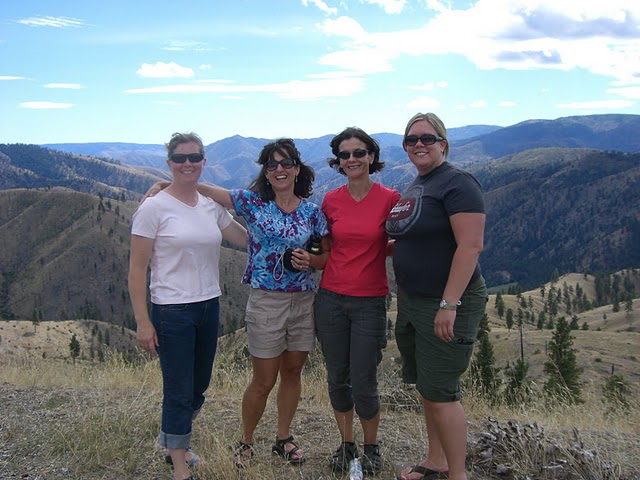 A find on this trip were the elderberries we discovered on a walk along a road next to the river.  Their tiny, smoky blue berries (which are sometimes found in other areas as white) drew me in and I was immediately inspired to pick and cook.  Thanks to my fellow chicks, I came home with nearly 15 pounds of berries.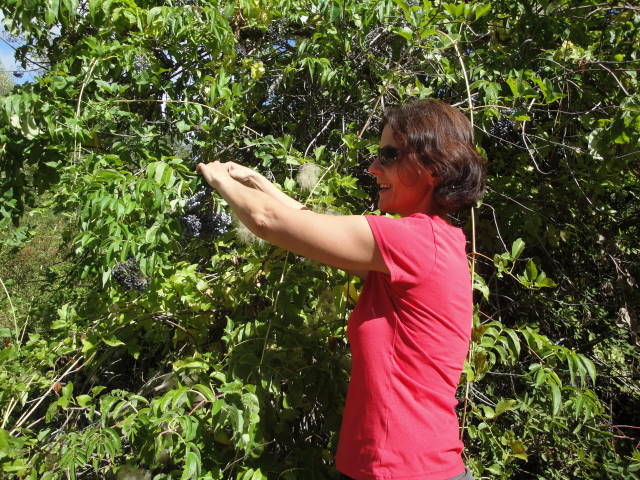 When I returned home, I was a bit overwhelmed because I had also been drawn in by 30 pounds of Italian Prune Plums and 40 pounds of apples purchased in Peshastin.  Berries go very fast once picked, and these beautiful blue bunches were not going to last.  With a little help online, especially from David Lebovitz, I stemmed the berries (not a quick or easy task) and cooked them down with a little water.  (The leaves and stems can be toxic in large amounts, so be sure to remove them carefully before cooking the berries.)  A careful strain of the elderberry juice through cheesecloth gave me several cups of juice which I froze for later use.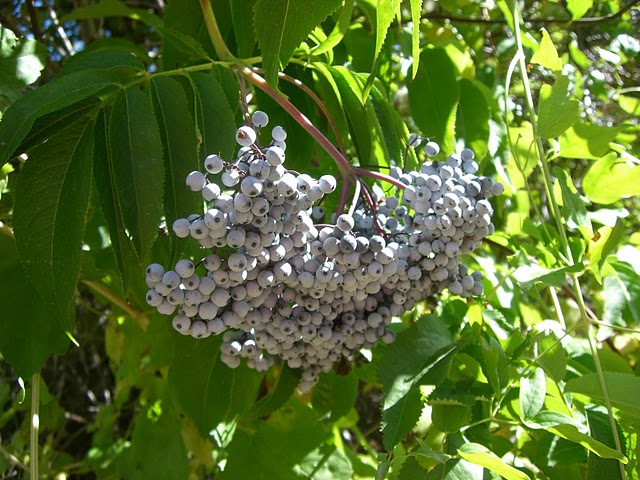 There are a lot of recipes for elderberry jelly, but I found it just as easy to use the low sugar recipe on the Sure Jell box.  (Be sure to buy the pink box which is the low sugar pectin.  Making jam with nearly 1/2 of the usual sugar gives the jam the most intense fruit flavor.)  I followed the recipe for blackberry jelly which uses juice, sugar, pectin and lemon juice.  The elderberries need little more.  They have a currant-like flavor with earthy overtones.  Be prepared for intense flavor.  A little elderberry jelly goes a ways on toast.
I've been making jam since I was a child in my mother's kitchen, but it never gets old.  It's always satisfying to see the jars lined up on the counter and hear the lids pop as the jars seal from the heat. (Be sure to process the jam according to USDA guidelines.)
The next Chick Trip is a winter trip to Leavenworth.  I'll be bringing some elderberry jam.  And probably some scones too.  A perfect combination.