Sometimes a friend puts an idea into your head and you just have to run with it.  Pastry (and cooking) has so many options that it can be difficult to focus on just one thing.  There are too many recipes – too many things to cook and bake.  Of course, I have my favorites and my standards – things that people know me for.  Scones, for instance.  But since my repertoire is large and my interests are vast, I often find it hard to decide what to make.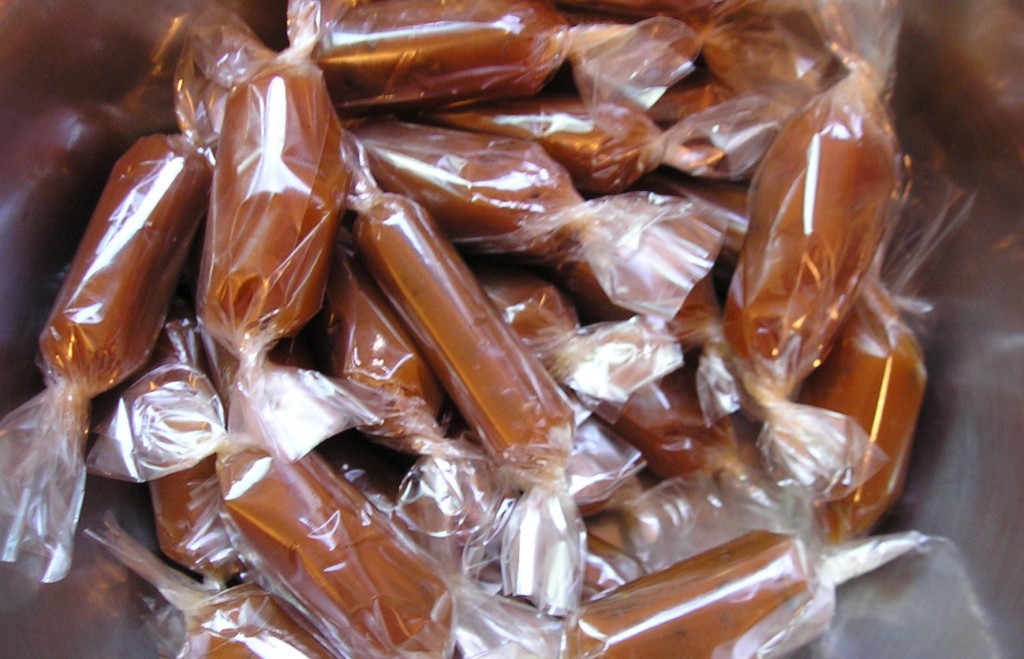 So when my friend Natalie mentioned that she wanted to learn how to make caramels, she got me thinking.  I told her that I don't consider myself an expert on caramels.  After all, I had made them only a few times since culinary school.  But her request nagged at me until I finally pulled out my trusty candy books – the ones that are written for professionals – (some of which were text books from the CIA) and I started reading.  Next, I went to the internet to see what people are writing about caramels these days.  (The salted caramel certainly prevails.)  I got my fill of the caramel realm.
Making caramel is a fairly easy task.  Making caramels is a little more challenging.  It's critical to get the caramel cooked to just the right temperature to achieve a soft but chewy consistency.  A little under the correct temperature and your caramels are drippy.  A little over and you will be paying for your guests' dental bills.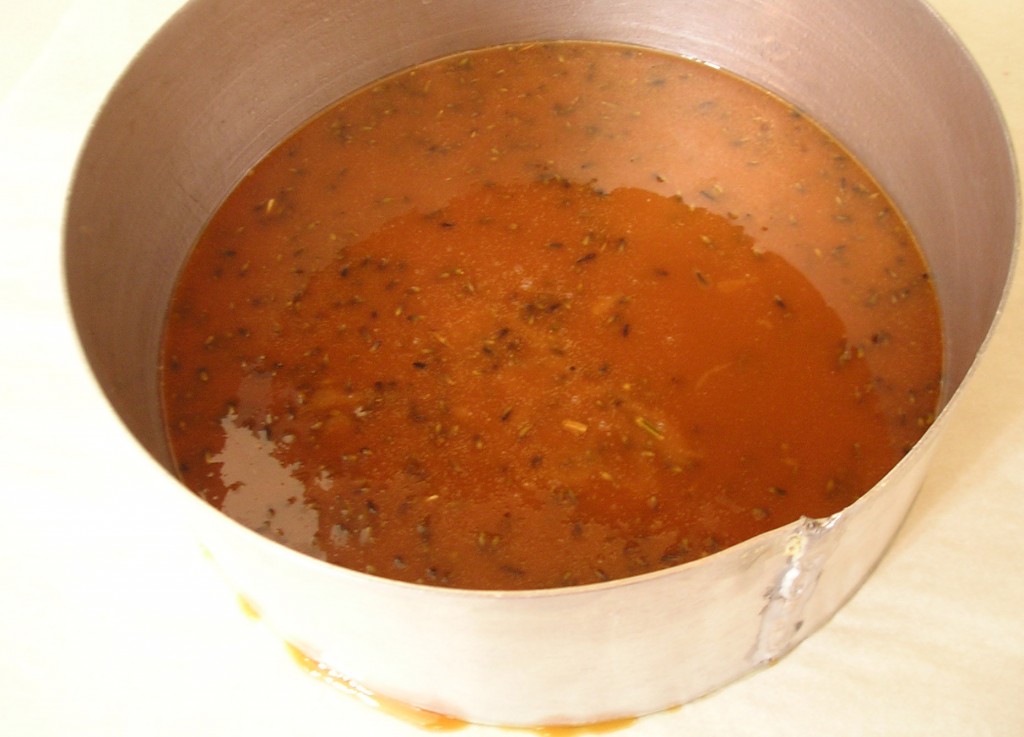 I had an added challenge – replacing the corn syrup.  Corn syrup and its cousin, glucose (both invert sugars – simply meaning they will not crystallize and they'll keep granulated sugar from crystallizing) has gotten a bad rap in the last several years, and in most cases, rightly so.  It's true that many foods unnecessarily contain corn syrup because it has become a cheap alternative for cane sugar.  (Organic corn syrup, although sometimes available, is too expensive to be used by most cooks.)  But corn syrup used in candy making can be the difference between a crystallized, palate-offending caramel and one that is a silky, smooth, amber confection.
I've been working to make the move completely away from corn syrup and related products and honey (also an invert sugar) is usually the answer.  However, honey has a distinct flavor and can sometimes overtake the dominant flavor in a confection.  So I wasn't too surprised when my first try at a soft caramel turned out a vanilla caramel tasting more of honey and less of the vanilla bean I had added for flavor.  On the plus side, even though the mixture separated some while cooking (a reaction of the honey combined with milk products), the final caramels weren't a disaster.  In fact, they were a beautiful color and the correct consistency.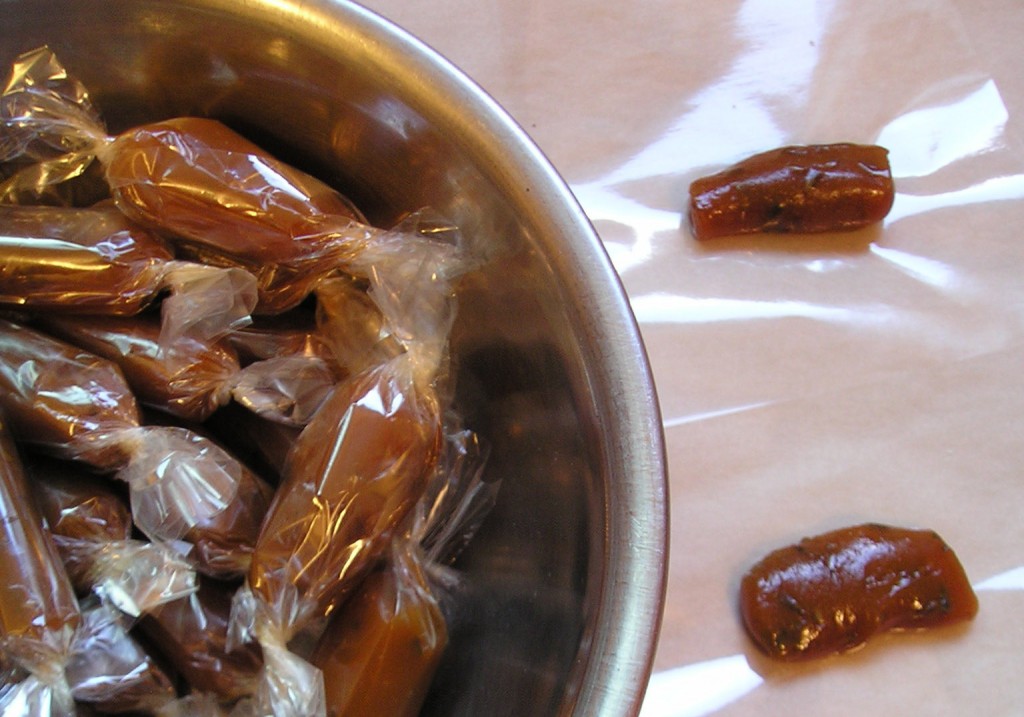 On my next try, I decided to go back to basics before corn syrup existed and use all sugar with just a few added tablespoons of honey to prevent crystallization.  Initially, the result was perfect.  It cooked beautifully, came to the correct temperature (248°F), and at the same time, it had a luscious amber color.  As I poured the caramel into my makeshift mold of foil "bars", I was grinning.  It looked spectacular.  But within a few days the caramels had crystallized on the exterior.  The verdict:  not enough invert sugar.
As they say, the third try was the charm.  First, I threw out the books – not literally, but I decided to set them aside.  I love my trusty cookbooks and they are great reference points, but sometimes you just have to go with your gut.  I decided on a simple proportion of 1 part sugar, 1 part honey and 1 part heavy cream.  This proportion turned out a caramel tasting just slightly of honey, but mostly of that wonderful dark sugar that is the essence of a caramel.  After the caramel set with its glossy finish, it cut easily into pieces that I rolled and wrapped in cellophane wrappers.  Simple, silky, caramels.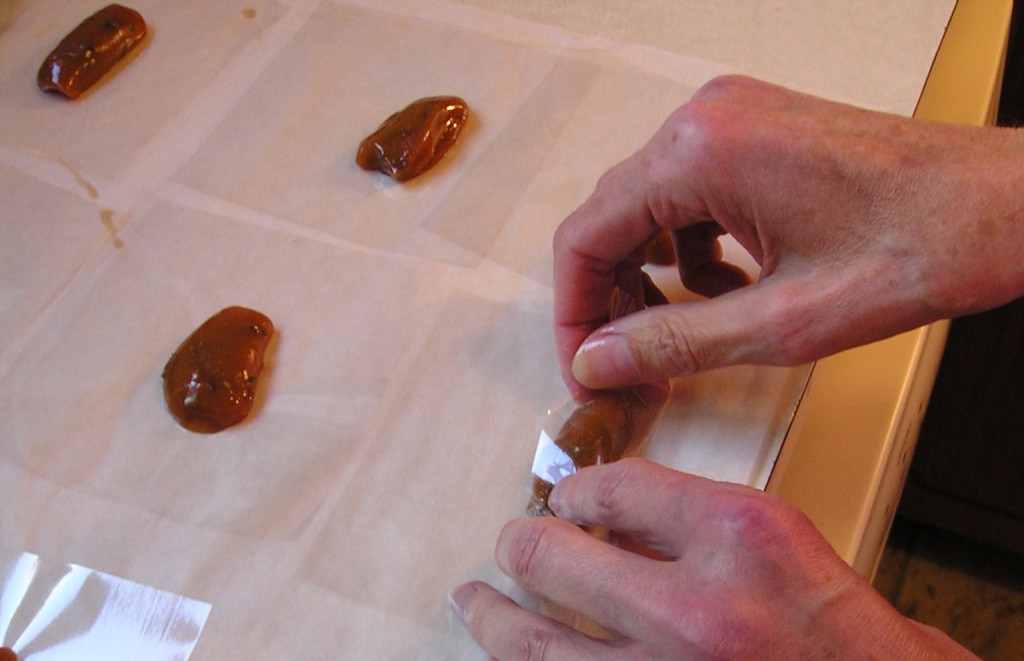 David Lebovitz has one of the best explanations with great pictures which helps explain the caramel process.  Remember not to stir the sugar while it's cooking.  Just gently swirl it in the pan to even out the color.  Once the cream is added, you can stir a little with a spatula.  I found that this recipe needs very little stirring.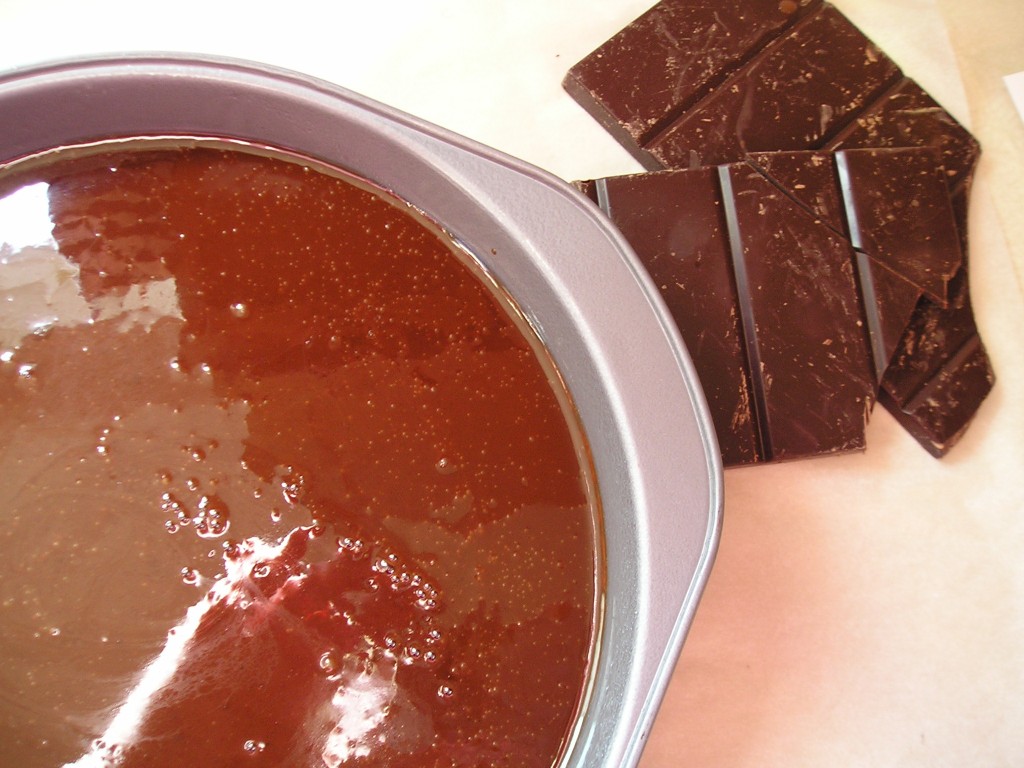 The pictures show a variety of caramels including lavender, vanilla and chocolate.  This recipe for chocolate caramels was inspired by my love for Theo chocolate and the 20 pounds I had just picked up for holiday baking.  The Theo 70% chocolate has an intense and fruity flavor that combines perfectly with the dark "nearly-burnt" caramel.  Originally, I had written the recipe for 4 ounces of chocolate, but when the caramel set quite soft, I cut it back to 2.5 ounces.  It still makes for great chocolate flavor and a caramel that's easy to cut, wrap and eat.
CHOCOLATE CARAMELS
1 cup granulated sugar
1 cup mild honey
1 vanilla bean, scraped
½ teaspoon kosher or sea salt
1 cup heavy cream
2.5 ounces dark chocolate (70%), chopped
2 tablespoons butter (salted or unsalted)
Spray an 8×8 inch square baking pan and line with parchment.  Spray the parchment.  (I've tried different makeshift "molds", but find that the pan works just as well.  A cake ring is a good substitute.)
Combine the sugar, honey, salt and pulp of the vanilla bean in a 3 quart heavy-bottomed sauce pan.  Add enough water to make the mixture "sandy."  Wash down the sides with a wet pastry brush so that no crystals are on the sides of the pot.  Cook on high heat.  In the meantime, heat the cream and salt in a small pan until hot.  Remove the cream from the heat and stir in the chocolate until combined.
Continue cooking the sugar until it is dark amber, or just before it smells like it is going to burn.  Swirl the sugar to even out the color using the pot handle, but do not stir it.  When the sugar reaches the desired color, add the cream and chocolate slowly, whisking quickly.  Be careful that the sugar doesn't splatter on you.
Stir the caramel occasionally until the it reaches 248°F. (This will happen fairly quickly, so be sure to have your pan and a clean dry spatula ready.)  Remove the caramel from the heat and stir in the butter.  Pour the caramel into the prepared pan.  Let cool to room temperature (about 2 hours).  Remove the caramel from the pan onto a sprayed cutting board.  Cut the caramels and wrap them in cellophane or waxed paper wrappers.
Recipe inspired by Chocolates and Confections (Greweling).