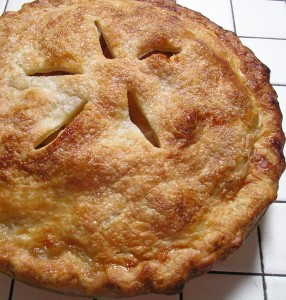 It's the Monday before Thanksgiving and you're stressing about the pies you will be baking for Thursday's feast.  You're considering buying your pies instead of making them because the crust never comes out right.  Or you might be planning to buy the crust and make the filling.  You figure you can't screw that up.
First, don't panic!  Pie crust is not as difficult as you think.  Really, it's not.  There are just 5 important steps to making good pie crust.
Use quality ingredients. Anything you make, whether it's pie or pot roast, will always have the best fighting chance if you start with quality ingredients.  I use all butter, but a combination of butter and lard or butter and shortening also makes great pie crust.  Use high quality unsalted butter because the highest quality cream goes into making unsalted butter.  Use fresh flour, not the flour that's been sitting in your cupboard for a month or more.  I like King Arthur Flour.
Keep your ingredients cold. Chill the flour, take the butter directly from the fridge and use ice water.  The way to achieve flaky pie crust is to work with cold ingredients.  When the pie crust is baked, the pieces of butter in the dough create steam which in turn creates those beautiful flaky pockets.
Don't overwork your dough. Pie dough isn't pretty – that is until it's baked.  Mix your pie crust so that you leave pea to nickel size pieces of butter in the flour.  Add just enough water so that the dough holds together with a squeeze.  The dough should be a shaggy mass and I mean shaggy.  It will have ragged edges and spots of butter.  Let it be shaggy and it will be beautiful when it comes out of the oven.
Chill your dough in the refrigerator. After you've mixed your dough, flatten it into two disks (for a double crust pie) and chill the dough at least 30 minutes.  Resting the dough allows the gluten to relax and makes it easier to roll out.  If you're new at making pie crust, you may need extra time rolling out the crust.  The dough may get soft and sticky or break and split.  If the dough splits, gently reseal it by bringing the seam together with your fingers or patch it with a piece of dough from the edges.  Then chill it in the refrigerator.  Don't worry!  If you've made a good crust, a few patches won't make a difference.  After the dough has chilled, continue rolling it out.
Use flour

as needed

. When rolling out the crust, you have to use some flour to make sure your dough doesn't stick to the counter.  You don't need any special tools.  Before rolling out your dough, clean and dry the counter well.  Dust the counter with flour.  (If you can't see the counter through the dusting of flour, you have used too much flour.)  You can always add flour.  Lay down your dough disk and dust the top of the dough lightly.  Roll from the inside out 4-5 times, dusting very lightly as needed.  Turn the dough 1/4 turn and roll again.  Continue rolling and turning the dough, dusting with flour as needed.  If any dough sticks to the counter, scrape the counter well and dust it again with flour.  A clean, dry counter will keep your dough from sticking.
Pie crust recipes are numerous and frankly, they all work.  The problem with most pie crust is not the recipe, but the handling.  Use a recipe from your grandmother or mother or your favorite food personality.  Then incorporate these 5 simple steps and your crust will be flaky and flavorful.  At the table on Thanksgiving, you can deny any difficulty saying, "It was easy at pie!"