I've been a little amused lately with all of the chatter about pie being the new "it" food.  Pie shops are popping up everywhere.  My amusement comes from growing up around a lot of pie, both sweet and savory.  My mother is one of the best pie makers I know and pie has always been a staple in our family.  My mother has quite a repertoire of pies.  In the fruit category, she can whip together cherry, rhubarb, blackberry, blueberry, huckleberry, peach, apple (both classic and French apple), mince, and cranberry-walnut pies.  On the custard and cream side, coconut cream, chocolate cream, banana cream, pumpkin, lemon meringue and lemon cream were regular guests in our house.
But my mother's specialty pie and most requested dinner entrée has always been a savory meat pie called the pasty, or specifically, the Irish Butte pasty.  Shaped as a half-moon pocket, this traditional miner's lunch consists of pastry dough wrapped around beef, potatoes, and onion and baked until crisp and golden.  There is absolutely nothing fancy about a pasty.  It originated as a miner's noonday meal – taken in his tin lunch pail down into the underworld of the mine.  The crimped edge of the pasty acted as a buffer between the miner's coal-blackened fingers and his lunch.  He would eat the pasty down to the "handle" of crust and then discard the remainder.
The Irish Butte pasty is just slightly different than the Cornish pasty traditional in England, with the Irish pasty meat being cut in cubes and the English version always containing sliced meat.  It makes you wonder if the Irish did that just to make their pasties "a little different" from the English version.  Why is this pasty attributed to Butte, Montana?  Because it was one of the major mining areas (mostly copper mining) in the United States.  A large Irish population in Butte lead to a lot of Irish miners.  (In fact, the book Copper Camp, which depicted the great copper mining days in Butte, was mostly penned by my great uncle William A. Burke.)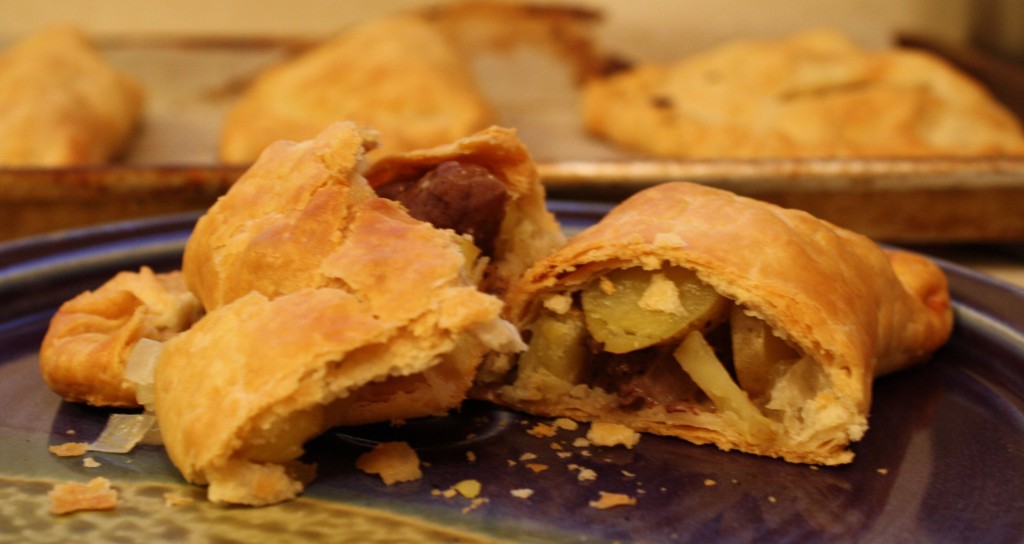 In our family, we've always eaten pasties as a main course for dinner.  My mother serves them with beef gravy (although my brother prefers ketchup on his).  It's traditional in our family to break open the hot pasty with a fork (while taking in the steamy aroma) and drizzle on the gravy.  But pasties can still be held in the hand or made miniature for an appetizer.  For a vegetarian option, fill the inside with onions, potatoes, sweet peppers, zucchini, eggplant, and carrots.  Refrigerate leftover baked pasties and reheat them the next day in a 350°F oven for about 15 minutes.
Irish Butte Pasties (makes 4 main course pies)
This recipe was passed down from my grandmother, Hazel Ryan née Burke, a Butte native.  As in any pie, the pastry dough in a pasty is a critical element.  (Check out my tips for making great pie dough.)  The second key element in pie is the filling.  Cubed round or any other cut of beef works well in pasties.  Slice up the potatoes (I used some fingerlings which I had on hand the day I made these), chop up some onion, add pinches of salt and pepper and a little butter for moisture.  My mother uses beef suet, but it can sometimes be difficult to find.  Butter is a good substitute and provides a little moisture as well.  Always use raw ingredients in the filling so that the whole pasty bakes together for the best flavor.
Pie Dough
2 ½ cups all-purpose flour
8 oz. (2 sticks) unsalted butter, very cold, cut into ½ inch pieces
1 teaspoon salt (preferably kosher)
7-9 tablespoons ice water
Combine the flour and salt in a large bowl.  Add the cold butter pieces and work it in with your hands by pinching the butter and breaking it apart.  Continue this until you still have some larger pieces of butter and the rest of the flour looks like meal.  (Many people say you're looking for pea-sized butter.  That works too.)
Add the ice water in 3-4 parts, using a spoon or dinner fork to cut through the crust mixture several times.  After about the first 6 tablespoons of water, add 1 tablespoon at a time until the dough starts to hold together.  This is a critical point!  The dough will still look like a shaggy mass (very technical term).  Test the dough by squeezing it with your hand.  If it holds together, it's ready.  If not, add a little more water until it holds with a squeeze.  Don't worry if you need a few extra tablespoons of water.

Gather the dough together and gently divide it into four pieces.  Pat out each piece into 1-inch thick disks.  Wrap each disk in plastic and chill the dough while you prepare the pasty filling.
Pasty Filling
4 medium potatoes, sliced about 1/8 inch thick
2 cups beef round, trimmed, cut into 1 inch cubes
1 small onion, chopped
2 tablespoons butter (or beef suet)
Roll out 1 piece of the pie dough to about dinner plate size (10 inches).  Mound 1/4 of the potatoes, beef, and onion on one side of the pie dough leaving a good 1 inch or more edge.  Dot the filling with 1/2 tablespoon butter.  Fold over the dough and pinch the two edges to seal it.  Repeat these steps to make 3 more pasties.  Place the pasties on a baking sheet about one inch apart.  Brush the tops with milk or cream.
Bake the pasties at 375°F oven for about one hour.  Don't cut vents in the top.  Leaving the pasty closed holds in some of the steam and assist in cooking and keeping the filling tender.
Serve with beef gravy.
Want to learn more about pie dough and savory pies and tarts?  I'll be teaching a class at Woodhouse Winery on February 26 where you can learn how make great pie dough and then we'll use it to make pasties and a vegetable tart.  Register for the class here.  Find more information about upcoming Pastry Craft classes on my Events page.