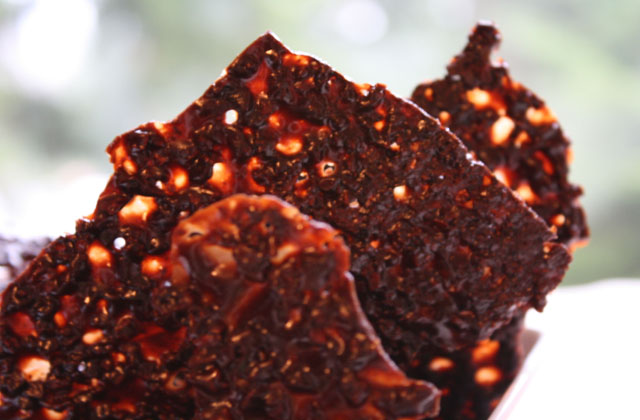 Several years ago when I was a fledgling pastry cook, I worked at The Wauwinet Inn, a small Relais-Chateau hotel on Nantucket Island.  The inn, frequented by elite and celebrities who wanted to escape (the Zagats were regular guests), was a hotbed for quality local and some more exotic products – beautiful local seafood and produce and pretty much anything we could want in the pastry department.  It was there that I was first introduced to the cacao nib.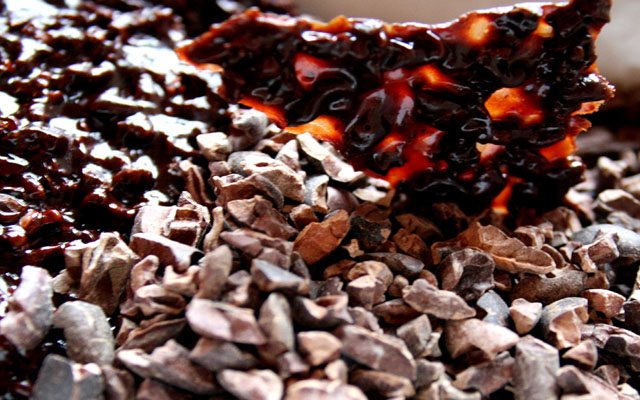 The cacao nib is the cocoa bean, shelled, dried, roasted and lightly crushed.  As the foundation to fine chocolate, it is completely unsweetened and has a complex chocolate flavor, bitter and earthy.  For chocoholics (of which I don't claim to be), I've always thought of it as their ultimate intense chocolate treat.
Until recently, the cacao nib was elusive to the home cook and exclusive to a pastry chef's secret ingredients.  As the cacao nib became more popular in restaurant kitchens, its availability spilled over into some groceries.  In our area, PCC carries two varieties including one from local Theo Chocolate.  You can even find cacao nibs in some vitamin supplement and health food stores.
Besides its complex flavor, I love the cacao nib's versatility.  I've seen it added to cookies in lieu of chocolate chips, mixed into ice cream or mousses or even incorporated into savory dishes.  But my favorite use of the cacao nib has always been this nougatine.  Essentially a brittle, the nibs are combined with just enough butter, sugar and cocoa powder to make the nibs pleasantly palatable, without being overly sweet.  This Valentine's Day, if your lover is a chocoholic, make this nougatine for them.  Recently I made some for friends who raved about its intense flavor and did not heed my warnings that it is addictive.  Too quickly, the bowl of nougatine I had put out to snack on was gone.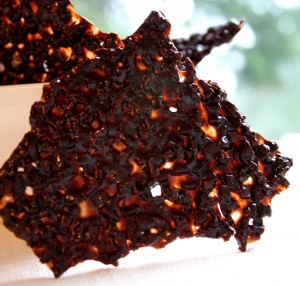 I've incorporated cacao nib nougatine in garnishes for cakes, crunched it up as an addition to ice cream and sorbet, and as a building block for a plated dessert.  While I was the pastry chef at Salish Lodge, this cocoa nib nougatine found its way into The Chocolatier's Palate, an array of chocolate confections presented in a chocolate bowl for two or more to share.  Shaped while warm into curls and curves, it was a striking and dramatic garnish sitting atop the other confections.
Treat this confection as you would any other brittle.  Once baked and cooled, store it in an airtight container at room temperature.  The sheets can be made ahead and frozen until you're ready to bake them.  They'll last in the freezer up to a week or more.  The brittle will usually hold for a few days and in dry conditions, up to one week.
Cacao Nib Nougatine
Yield:  1 sheet (about 11 x 14 inches)
2 tablespoons whole milk
4 tablespoons unsalted butter, cut into 1 inch pieces
½ cup + 2 tablespoons powder sugar
2 tablespoons honey
½ cup cacao nibs
1 tablespoon cocoa powder
Preheat the oven to 400°F.  Cut a piece of parchment paper about 12 x 16 inches.
Combine the milk, butter, sugar and honey in a heavy-bottomed medium sauce pan.
Combine the cacao nibs and cocoa powder in a medium bowl.
Bring the ingredients in the saucepan to a full rolling boil over high heat.  Cook to 225°F.  (This will happen very quickly.)  Remove the pan immediately from the heat and pour it over the nibs and cocoa powder.  Stir to combine.
Immediately pour out the mixture onto the parchment.  Lay another piece of parchment over the top and use a rolling pin to "roll out" the nougatine as large and thin as possible.  (It will nearly fill the parchment.)  Don't worry about holes or spaces in the sheet of nougatine.  They will fill in when the nougatine is baked.  If you're going to bake the nougatine right away, remove the top sheet off of the nougatine as soon as it is rolled out.  Or leave the top sheet on the nougatine and freeze it up to 1 week.
Bake the nougatine on a very flat cookie sheet with sides for approximately 8-12 minutes or until the nougatine bubbles across the entire surface and the edges start to set.  Remove the nougatine from the oven and cut it into desired shapes.  I like to let it cool completely and then break it into random pieces.  It should be crisp and snap when cool.  If it's still bendable after cooling, return it to the oven and bake about 5 minutes more.  Store the cooled nougatine in an airtight container at room temperature.
Recipe inspired by Topper's at The Wauwinet