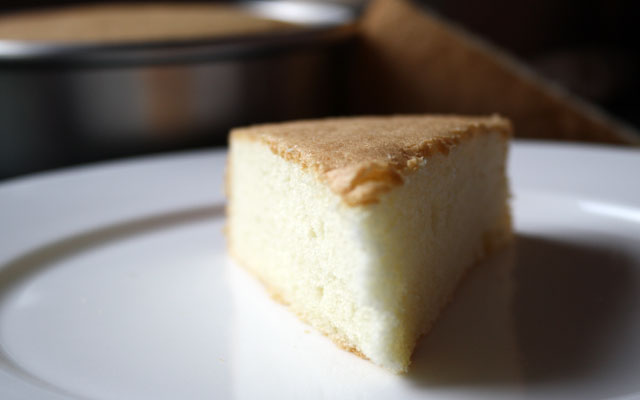 This picture doesn't look like a recipe gone wrong.  But weeks ago, it was in shambles.  It's a strange thing when a recipe that I've been using for nearly 10 years suddenly goes south.  This happened to me recently with my ever-dependable chiffon cake recipe.  It's behaved very well for years.  I've used it in bakeries and restaurants and at home.  Absolutely fail-safe every time.  But suddenly . . .
It all started when I decided to convert my chiffon cake recipe from weight measurements to volume measurements (cups).  I wanted to use the recipe for my cake classes, but I needed to convert it for students' ease.  I rarely have issues with converting recipes, but I quickly realized that cakes which depend on a meringue are different animals altogether.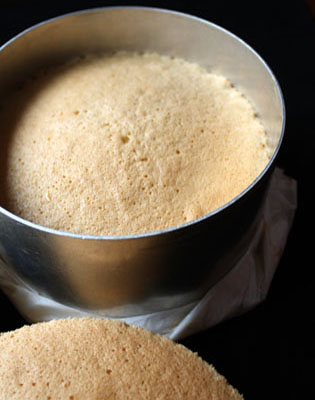 The first test looked beautiful as I removed it from the oven – golden and gently domed with a firm spring when touched.  After letting the cakes cool (upside down like an angel food cake), I removed them from the pans.  Out of the pan, my lovely cakes didn't look so lovely.  The bottom of the cakes were shrunken and concave.  And within minutes of unmolding them, the cakes were dense, compact lumps.
My first assumption was that I had converted incorrectly.  After all, that is the only change I had made to the recipe.  So I checked my conversions, considering all differences that might occur with those conversions.  And then I tried the cake again, the same night.  Round number two produced exactly the same result.  I checked my ingredients.  Had I changed an ingredient since I'd last successfully made this cake?  No. The ingredients checked out.
Then I had to consider mechanical differences.  The concave, slightly damp cake bottoms indicated the cakes might have too much moisture.  The ingredients already checked out (or so I thought), but could the cakes be steaming in the pans, creating more moisture, and causing shrinkage?  Round number 3 involved the same converted recipe, but a different cooling technique.  Still the same result.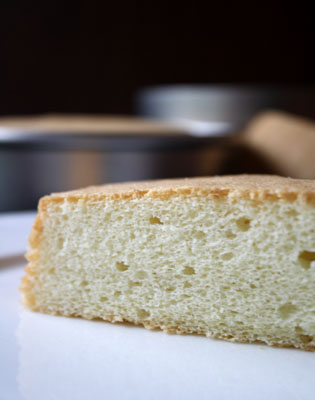 For a few weeks, I left the recipe alone.  It haunted me.  I dreamed about chiffon cakes.  Finally, I did what we all should do when we face such a problem.  First, I admitted I needed help.  And second, I got on Google to search out a solution to my problem.  The suggestions I found for this problem confirmed what I had already suspected – too much moisture.  Moisture in the recipe came from sugar, oil, water and eggs.  I felt confident in the sugar, oil and water, so I thought, "It must be the eggs."
In the end, what did I do?  I decided to change the recipe, by decreasing the amount of egg whites.  I had concluded in my some seven bakes that converting the recipe had somehow decreased the amount of flour I was using and increased the amount of egg whites.  In brief, there was just too much moisture in the cake and that's what was causing the collapse and shrinkage.  By cutting back on the egg whites, I allowed the flour and egg yolks to play a larger role in stabilizing the cake.
Nope, no pictures of the failed cakes here.  My frustration and ego kept me from taking any.  These pictures scream "Success!"  Gorgeous, light, tender chiffon cake.
I didn't include a recipe here because I think this cake can be challenging without some hands-on instruction.  You can learn to make this cake along with chocolate sponge cake and a lemon pound cake in my  Cake 101 class.