It's been a busy past few weeks and I've been a bit absent from my blog.  Before I talk about candied citrus, let me tell you what I've been doing.
First and foremost, I've been teaching – a lot!  Last Thursday I taught a great class at Woodhouse Wine Estates – Savory (and Sweet):  Pastry from France.  This is a new class which I will be teaching again at Dish-It-Up in June.  I had a wonderful group of enthusiastic students who assisted with my demonstration, asked great questions and enjoyed wonderful wine.  On the menu were olive cookies, gougeres, an Alsatian onion tart and cacao nib nougatine napoleon with milk chocolate crème.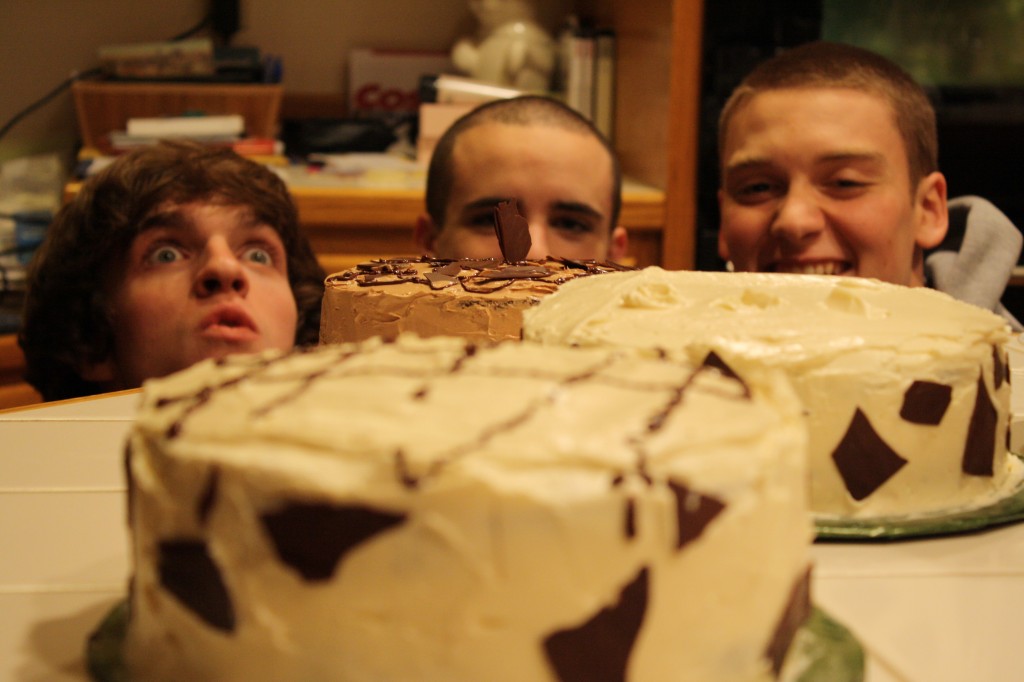 In early March, I finished up the last of 4 classes with the Fabulous Baking Boys – 3 high school students who are learning to bake for their senior project.   They attended four classes on different disciplines taught in one of their homes.  I thoroughly enjoyed teaching these great guys.  (More details coming in a blog soon.)
Cake 102:  The Well-Built Cake has been a very popular class lately.  I taught it three times in 2 weeks:  for the Baking Boys, as a private home class, and in a Shoreline host kitchen.  Students learned to make Italian buttercream and cake fillings, and build and finish a cake.  Everyone enjoyed learning how to construct a cake with even layering, straight sides and a flat top.  Not as difficult as they thought!
I also took a little time off for the semi-annual Chick Trip on Orcas Island.  I could live there – if I didn't live here.  An incredibly peaceful place.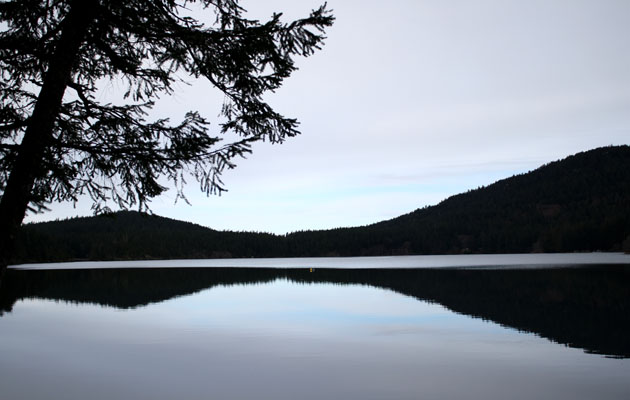 I've also been working on a personal project – I'm searching for a house to buy.  As of this writing, I've made an offer, so send me good vibes on getting it accepted.  This will be my first house and I'm ecstatic to finally have a place that feels like home.  There will be some serious gardening in my future if this house comes through.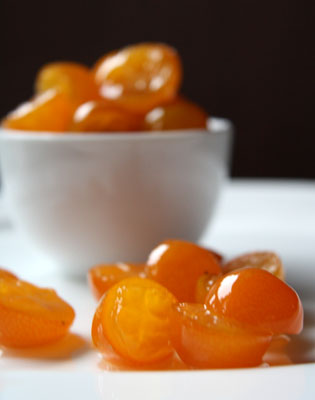 During all of this, I still found time to do some cooking at home.  One day, I unearthed from my refrigerator a bag of kumquats I had bought at PCC a few weeks before.  Even though spring seems to have arrived, kumquats are still readily available.  (This has been one of the best seasons I've seen for citrus.  The grapefruit, in particular, has been amazing.)  These kumquats were still sweet enough to snack on, but for the sake of preservation, I chose to candy them.
Kumquats are an odd little fruit.  I think many people avoid them because they expect them to be bitter like an orange peel.  But they're usually fairly sweet with just a hint of bitter twang and can be eaten fresh, just popped in your mouth.  But candied, they take on a translucent glow and have a sweet, orange flavor.
Candying is both easy to do and a great way to preserve.  The key to candying anything is to be sure to include an invert sugar such as honey or corn syrup.  This will keep the citrus from crystallizing.  Hold candied kumquats (as well as other candied citrus) in their syrup in an air tight container in the fridge for 3-4 months.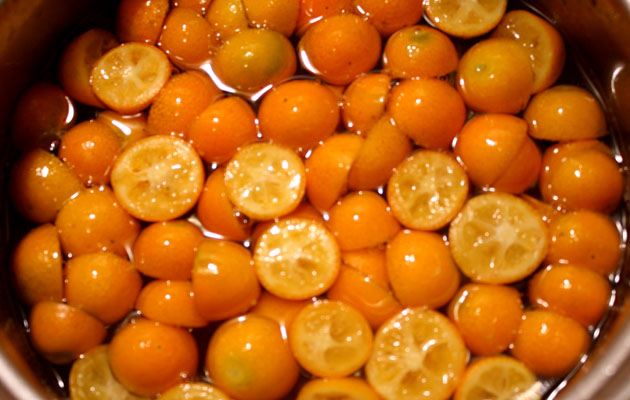 Candied Citrus
2 cups granulated sugar
½ cup honey (or corn syrup)
Pinch of kosher salt
1 cup water
1 cup of prepared citrus (see below)
Preparing citrus
If you're using kumquats, wash them and cut them in half with a paring knife.  There are a few seeds, but they're easily picked out with the point of a knife.
Orange, lemon or grapefruit citrus should be blanched before candying to remove some of the bitterness.  Cut off the ends of the citrus.  Using a paring knife, score the peel top to bottom into four sections and gently pull the peel away from the fruit.  (Save the fruit for another use.)  Put the peels in a large pot of cold water and bring to a boil on high heat.  Drain the peels in a colander and repeat two more times.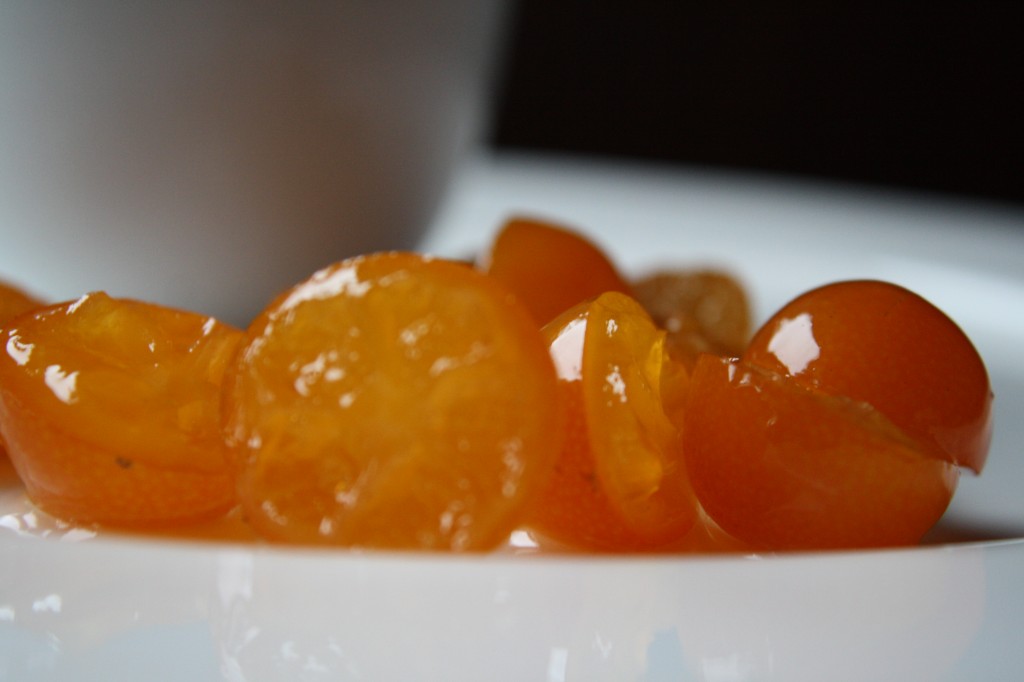 Candying Citrus
Combine the sugar, honey, salt and water in a medium saucepan.  Stir to combine so that no dry sugar is sitting on the bottom of the pan.  (Dry sugar will burn as soon as you apply heat.)  Bring the mixture to a boil over high heat.
Add the citrus peels and turn the temperature to medium low.  The syrup should barely bubble, as if you are poaching.  Cook the citrus about 1 hour or until the citrus looks translucent.  Turn off the heat and let the citrus sit in the hot syrup for another 1-2 hours.
Chill the citrus in the refrigerator at least overnight.  The citrus will be more tender if it sits in the syrup 24 hours.
Store the citrus covered in its syrup in an airtight container in the refrigerator.