Shortly before Christmas, I was having a drink with my friend, Patrice.  I told her the news:  "I'm going to be teaching three high school boys how to bake."  Patrice was excited.  "You'll love it.  Teaching boys rocks!"  I looked at her doubtfully.  Three boys.  High school boys.  Three!  In a kitchen with me.  I was a little skeptical.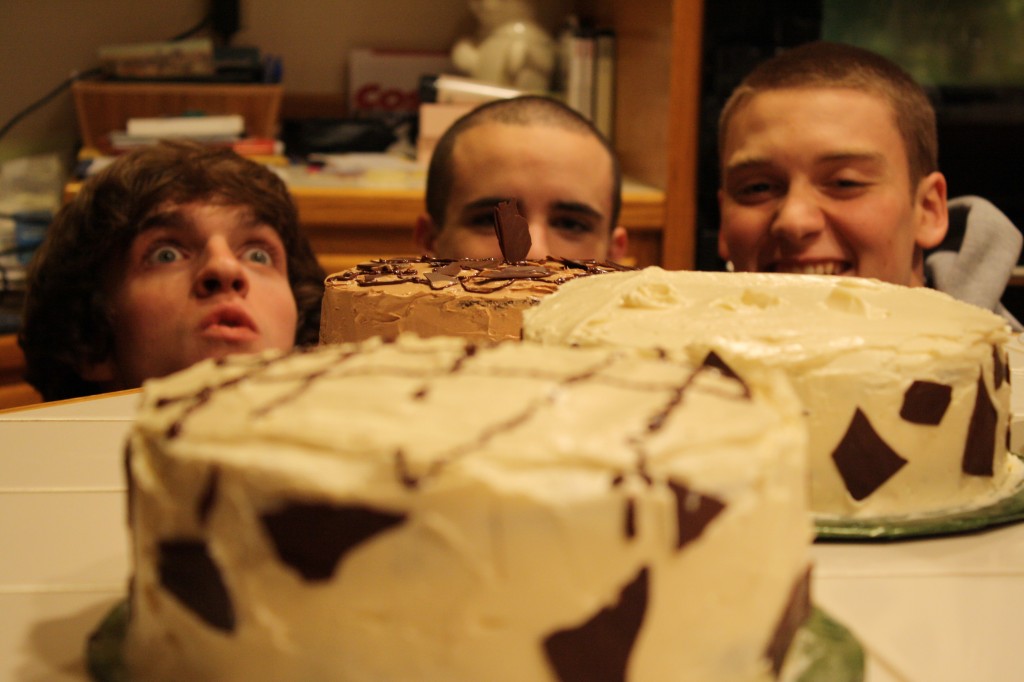 The boys, Daniel, John and Danny, students at Eastlake High School in Sammamish, had chosen to learn to bake for their senior project.  Their project required both experience and/or observation, as well as instruction.  I was tasked with providing the instruction.  An initial contact from one of their mothers led to my conversing by e-mail with Danny.  He told me over e-mail that none of them had much experience baking at home and no professional experience.  They didn't think they wanted to make a career of the culinary discipline.  They just wanted to learn to bake.
They had chosen their classes from my class list – Scones, Cookies 3 Ways, Cake 101 and Cake 102.  These four intense, 3-hour baking and pastry lessons would start at the end of January, beginning with the most simple class, culminating in March with the most difficult lesson, building a cake.  They were on their way.
I had thought some about how to approach them.  Should I make things a little simpler for them?  I didn't really want to dumb-it-down.  After all, they were nearly adults, so near to graduating.  If they were going to culinary school right after high school, that would only be 6 months away.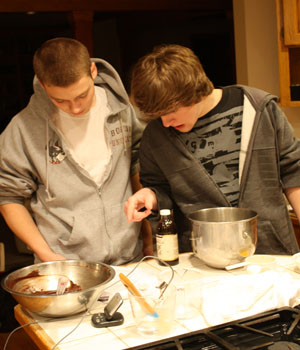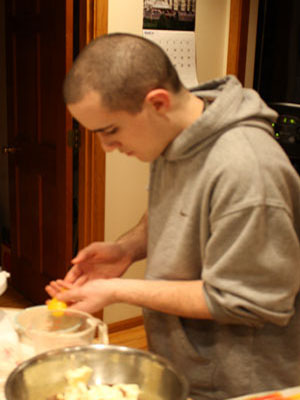 We worked from more simple classes and recipes – scones, to the most difficult, building a cake.  As they learned to follow a recipe, they also learned about baking techniques and ingredients, including different types of flours.  I saw them relax into scone-making, becoming more creative.  Each student had an intensity that was different.  They were clearly buddies, with a little friendly, male competition (healthy enough) thrown in.  They ended the first class with their variation of chocolate chip scones (low-fat, chocolate chip scones, that is).  By 9:00 pm, they each had a small pile of three types of beautifully baked, crisp and tender scones in front of them, ready to take home.  There was talk of taking the scones to school to share.  I pointed out that girls loved guys who could cook.  They laughed, embarrassed at my reference.  But I think I detected them noting it for future use.
The second class was more technically difficult.  After they learned to make a basic cookie dough, both vanilla and chocolate, they learned the correct technique of rolling dough (dusting with flour and turning the dough, not letting it stick to the rolling surface).  It was quiet in the kitchen at they concentrated on rolling and forming their black and white sable cookies into pinwheels.
At the end of the second class, Daniel's mother joined us and we delved into a discussion about pies and pie crust.  Daniel and his mother reminisced about the pies Daniel's grandmother used to make.  What made it special?  Could they duplicate it?  Pies had not been on their class choices initially, but talking about it made the boys excited and curious about trying out pie.
I quickly made some adjustments for the third class, adapting it so the boys could make a pie and the cake base in preparation of their fourth class, building a cake.  Pie dough technique came to them more easily than they expected, I think.  Having made scones, they already understood the method, scones being very similar in method to pie dough.  While it snowed heavily outside (the last big snow of the season), they each made a small apple pie, learning how to make beautiful crust and using the rolling technique they had learned in their second class with their pinwheel cookies.
The snow was still coming down as I encouraged them to press on and continue mixing devil's food chocolate cakes.  By this time, they were feeling comfortable reading a recipe, measuring and mixing.  I observed and made comments and corrections where they were needed, but the boys worked on their own making the cake batter.  I could tell they were starting to feel more confident in the kitchen.  As happens in most kitchens, they had fallen into a familiar rhythm, working side-by-side.  It was quiet as they concentrated on their cake batters.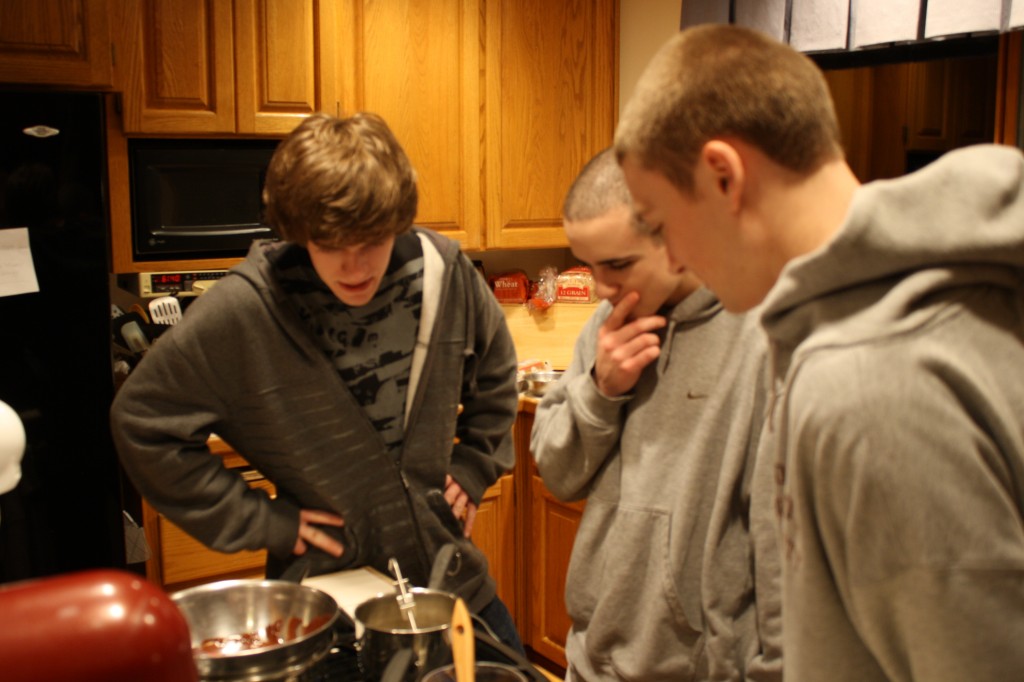 Beautiful cakes came out of the oven that night.  While I cleaned up, they admired their creations, tasted some apple pie I had made (Daniel had the requisite vanilla ice cream) and boasted over who's pie or cake was best.  Daniel's mother joined us for the pie tasting and we sat around the kitchen table admiring the cooling apple pies and devil's food cakes.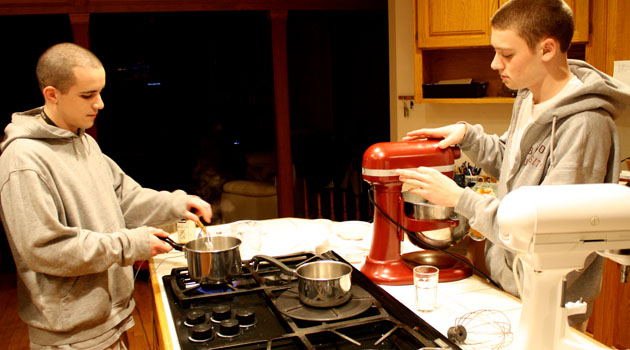 The final class began in the best way possible.  We stood around the kitchen island, mixers ready, utensils set, recipes packets open for our final class, Cake 102.  Before I could start my introduction, Danny exclaimed, "I can't wait to get started!"  There's nothing a teacher wants to hear more than that unbridled enthusiasm.  He was fired up and the feeling was contagious.
Cake 102 is technically more difficult than the other classes because it involves cooking sugar for making Italian buttercream and building a finishing a full cake.  This was the quietest class yet, as the boys concentrated on cooking sugar to soft ball stage (all measured by a digital candy thermometer), whipping egg whites to medium peak, making a beautiful meringue, and whipping in the soft butter for a super shiny Italian buttercream.
After making the milk chocolate crème that would act as their filling, the boys began building their cakes.  Careful slicing, filling and icing caused the kitchen to be silent again.  A few tips on getting the cakes flat with even sides and smoothing the icing, they finished up with some chocolate garnishes.  I told them my cake mantra:  "Always know when to stop."  They laughed.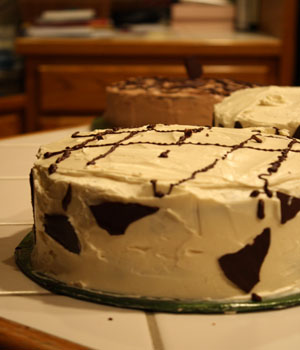 Clean up, lots of pictures, admiration, family observations.  They had "graduated" after their fourth class.  Tired, but thrilled, they assisted with clean up.  Handshakes, goodbyes and good lucks.  A satisfying experience for me and the Fabulous Baking Boys.