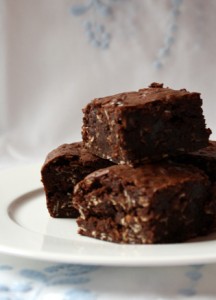 There are a lot of brownie recipes out there.  A lot! Probably more brownie recipes than any other cookie, except chocolate chip.  I've tried a lot of them over the years and so many of them are good.
But I still fall back on the brownies I grew up with – Camptrail Brownies.  This recipe came from Sylvia Gergen, a family friend and the mother of one of my friends.  Our two families spent many weekends camping when we were growing up and these brownies were a staple of nearly every trip. In fact, if the brownies didn't accompany us camping, there was some unrest in our family.
I have some strong opinions about brownies. First, they should be simple.  Anyone could make them.  And these are. A brownie should be a one bowl mix – this one is. Brownies should be a straightforward combination of butter, sugar, eggs, flour and chocolate.  This one is.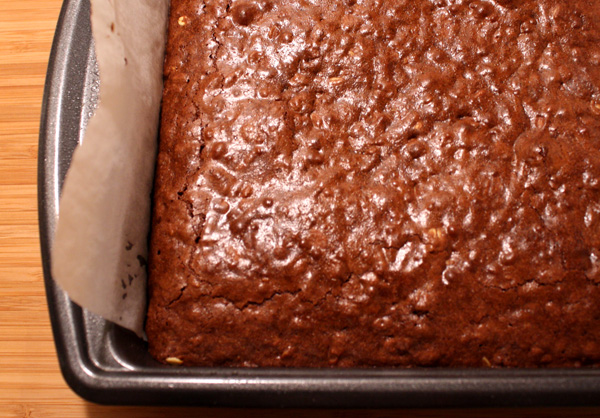 But what makes Camptrail Brownies unique is the addition of rolled oats.  I hope I don't lose readers here.  The rolled oats add a little substance and texture without interrupting the intense chocolate cookie that is both chewy and cakey.  Everything a brownie should be.
Other than the addition of rolled oats, there isn't anything else unique about these brownies.  But as with many foods, they remind me of childhood, camping with family, being on the trail. And that's what good food should invoke.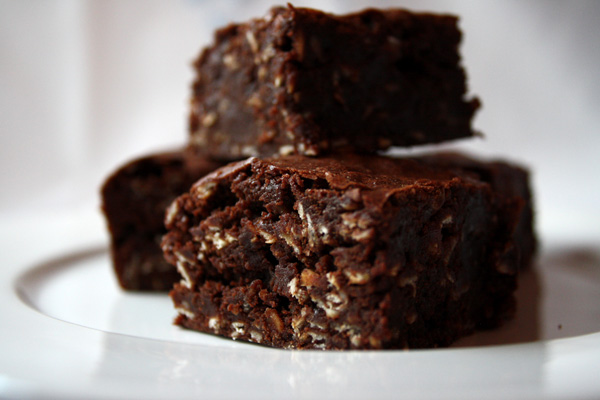 Camptrail Brownies
Recipe from Sylvia Gergen

The key to any brownie is the baking.  It's always best to underbake them a little to make sure the brownies stay moist and chewy.  Bake these until the sides puff and soufflé a little.  The middle will be a bit concave when removed from the oven.  Don't worry – the pan of brownies will even out and you'll have perfectly baked brownies.
Makes about 12 brownies
Preparation time:  20 minutes
Baking time: 40-50 minutes
8 ounces unsweetened chocolate
1 cup (2 sticks) unsalted butter
2 2/3 cups granulated sugar
4 eggs
2 teaspoons vanilla extract
1 ¼ teaspoon salt
1 cup all-purpose flour
1 ½ cups rolled oats
In a medium saucepan, melt the chocolate and butter over very low heat or over a water bath.
Add the eggs, sugar, vanilla extract and salt to the chocolate mixture and mix until combined.
Stir in the flour and oats until just combined and the batter is smooth.
Spread the batter into a 9×9 inch pan lined with parchment paper.
Bake at 325 degrees for approximately 40-50 minutes.  (It's better to slightly underbake these brownies to keep them moist.)
Cool the brownies completely before cutting them into squares.  Serve brownies at room temperature for best flavor and texture.