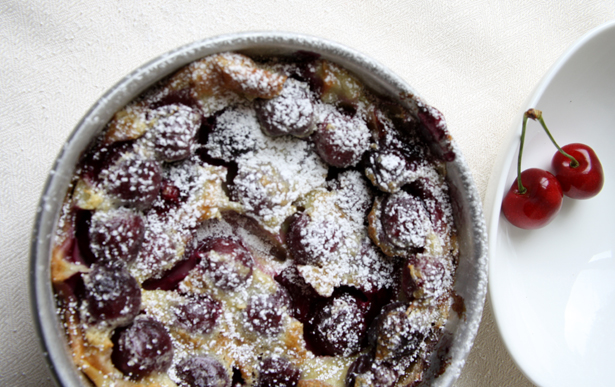 I woke up this morning thinking about clafoutis (clah-foo-tee).  Yes, it's a strange thing to come into your head at 6:30 a.m., but I can explain.  Yesterday, talented bakers and my Twitter friends Ed and Marieke of Weekend Bakery posted a picture of a croute which I learned is similar to clafoutis.  And, I had just picked-up the first-of-the-season Bing cherries at the Edmonds Farmer's Market.  Sometimes creating great food needs very little suggestion.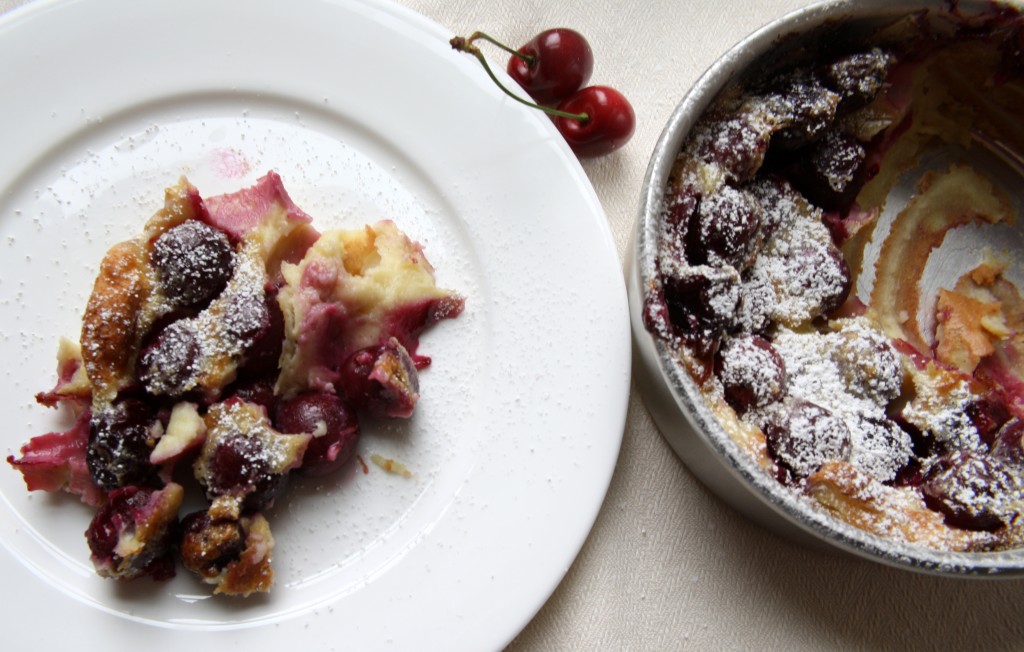 Clafoutis is a classic French dessert, more like a cake, but somewhat like a pudding.  It's eggy base has very simple components and you'll find it's so easy to make.  The classic French way to make clafoutis is with whole, unpitted cherries.  It's said that the pits of the cherries contribute to the flavor of the dessert.  I always wanted to make whole-cherry clafoutis when I was a pastry chef in restaurants.  However, the liability of serving cherries with pits – well, it just didn't fly with the servers.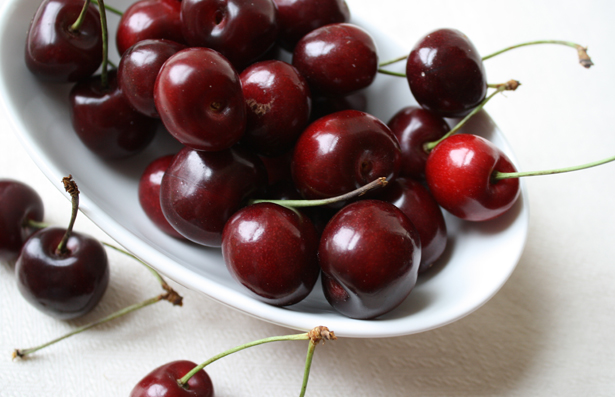 The best thing about clafoutis is that it's versatile.  I've made it with rhubarb, apricots, peaches, apples and blueberries.  I have even seen it made with grapes.  So don't get caught up on making it with cherries – most stone fruit and berries will work.  And if you're a little worried about the cherry pits, just pit the cherries before you make the clafoutis.  It will be fabulous either way.  And by the way, this is a perfect dessert to take to a Fourth of July picnic (even if it is French).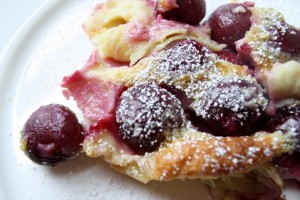 Whole-Cherry Clafoutis
Makes 6-8 servings. Adapted from Dorie Greenspan.
One of my favorite bakers and cookbook authors is Dorie Greenspan.  This recipe is from her newest book, Around My French Table.  I've tried many clafoutis recipes, and this is at the top of my favorites. Why Dorie?  She always has and continues to have some of the most approachable and well-written recipes in the business.  And her ability to have homes in both Paris and New York makes her a knowledgeable American source for great French recipes.
1 pound sweet cherries, stemmed, but not pitted
3 large eggs
½ cup sugar
¼ vanilla bean, scraped or 2 teaspoons vanilla extract
Pinch of salt
½ cup all-purpose flour
¾ cup half and half
½ cup whole milk
Preheat the oven to 350°F.  Have ready a 2 quart capacity baking pan.
Add the cherries to the pan. They should cover the bottom of the pan in a single layer.
In a medium bowl, whisk the eggs until they are foamy.  Whisk in the salt and vanilla bean. Whisk in the flour until well-combined.  Add the half and half and whole milk and whisk until just combined.
Pour the mixture over the cherries.
Bake the clafoutis 35-45 minutes, or until it has puffed and browned. Test the doneness by inserting a knife into the center. It should come out clean.
Cool the clafoutis on a cooking rack until it's almost cool or room temperature.  Dust it with powder sugar before serving. It's easy to scoop it out with a large spoon or you can cut it into wedges.  Either way, it's a rustic dessert, so don't get too caught up in the presentation.