More often than not, recipes are borne out of what's in the cupboard or refrigerator.  And such goes this strawberry-coconut sorbet.  I had just purchased a flat of strawberries at a local farmer's market. In the cupboard was a can of coconut milk. On the counter was my Cuisinart ice cream maker. And despite the chilly weather we've been having, in my head was sorbet.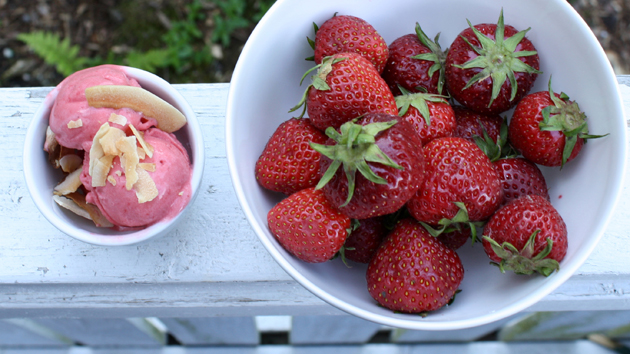 Sorbet is just one of many types of frozen desserts: ice cream, gelato, sherbet, sorbet and granita. The difference is in the ingredients and a little technique.
Ice Cream:  heavy cream or half and half, egg yolks, sugar, fruit or flavor
Gelato:  whole milk, egg yolks (or egg whites), sugar, fruit or flavor
Sherbet:  milk, sugar, fruit or flavor.
Sorbet:  Sugar, water, fruit or flavor.
Granita:  Sugar and water infused with tea, fruit juice or other liquid.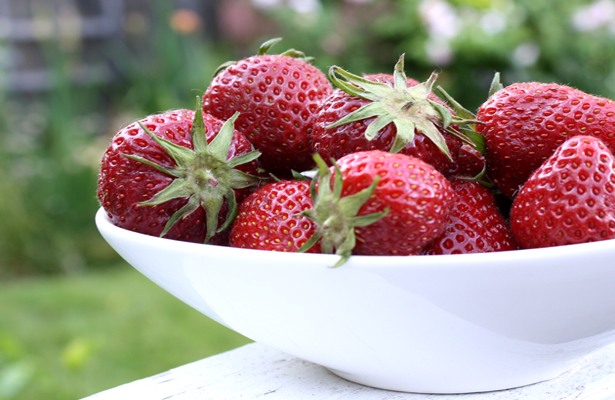 Ice Cream, sherbet and sorbet are generally frozen or "spun" in an ice cream maker which creates air and thus, lightens the product, both in color and texture. Traditionally, gelato is frozen more slowly which produces a more dense consistency. Granita is frozen until it is hard and then scraped to achieve an icy texture.
This sorbet is simple, relatively healthy and full of fruity goodness.  Make this now when local strawberries are abundant. Or freeze strawberries for later use. It's also easy to replace the strawberries with another fruit – raspberries or peaches would work well. (Raspberries are just coming in.) The coconut milk provides a creaminess to the sorbet and the coconut extract gives the coconut flavor a little boost. Remember to freeze the sorbet according to the manufacturer's instructions and then put it in a container in the freezer for 3-4 hours before serving.
2 quarts strawberries, washed and hulled (about 1 pound 6 oz.)
1 – 14 ounce can coconut milk
½ cup fireweed or other mild honey
¼ cup granulated sugar
½ teaspoon salt
½ vanilla bean, scraped
¼ – ½ teaspoon coconut extract
Combine the coconut milk, honey, sugar, salt and vanilla bean pulp and pod in a medium saucepan. Stir to combine. Bring the mixture to a boil over high heat, stirring a few times. Remove the pan from the heat and let it steep for 10 minutes.
Put the strawberries into a blender.
Remove the vanilla bean from the coconut milk mixture.  Add the hot mixture to the strawberries. Cover the blender container tightly and process on low speed for 30 seconds. Turn the blender to high speed and process until very smooth, about 1 minute.
Strain the sorbet through a fine mesh sieve to remove the strawberry seeds.  (If you like the look and texture with seeds, add a small amount of the seeds back into the sorbet.) Add the coconut extract.
Chill the sorbet mixture until it is very cold (about 1 hour).  Process the sorbet according to your ice cream processor's instructions.
Freeze the sorbet for 3-4 hours or until firm.  Serve in cold dishes topped with toasted coconut.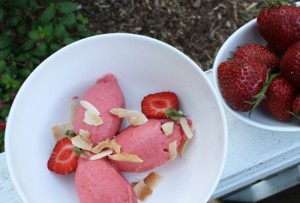 LEARN TO MAKE ICE CREAM, SORBET AND GRANITA:  You can learn the tricks and tips to frozen desserts on August 4, 6:30-9:30.  Details and registration are here.