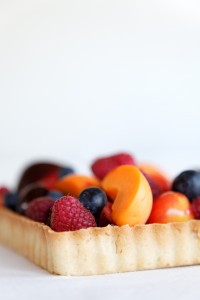 Last weekend I was shopping at a local farmer's market. My friend Betty met me there and we spent a good half hour perusing the produce before we started to buy. I was buying for upcoming classes and a little for my own meals. Betty was on the lookout for some sweet and spicy peppers and fish. Good thing I had a friend along, because I left with more than I could handle.
Our first stop was Bautista Farms for peaches and nectarines. The samples they had cut were a ringer. At Hayton Farms (who, by the way, now has their organic certification), I picked up 4 types of berries. I brought back three berry boxes from a few weeks ago and receive my discount of $1.00/per returned box. Hayton still had some strawberries, along with blackberries, raspberries and blueberries. A stop at another stand yielded some gorgeous apricots. All of the fruits were going to be used in a class focused on French pastry techniques that I was teaching at Diane's Market Kitchen on August 10.
August and September in the Pacific Northwest is a pastry chef's dreamland – especially at a farmer's market. I LOVE fresh fruit. If you know me, you now I would pick a fruit dessert over chocolate every time. When I was the pastry chef at Salish Lodge and Spa, I spent a lot of time touting the properties of certain produce, mostly fruits, to anyone in the kitchen who would listen. We received fresh produce 6 days a week and during the summer nearly every week brought something new, often something I had been looking forward to and patiently waiting for. And as the seasons are short, it was important to make the best of what we had that week and then move on.
But it's not just the fruit I love. It's also the way it's prepared. I would often "educate" the pastry staff on what I called "protecting the integrity of the fruit." I won't deny that I'm a purist. I like to taste the fruit and not a lot of spices and thickening agents. This is truly the best way to enjoy any fruit – its complexities, sweetness, acidity, floral characteristics, earthiness.
When I was creating Pastry Craft, I knew I wanted to create a class just on cooking with fruits in the simplest ways possible, to bring out their most coveted flavors. The techniques in Simple Fruits can be used year round with seasonal fruits. From oven techniques like roasting and braising to stove-top sautéing and poaching, cooking fruit brings out flavor, infuses spices and creates versatility. I'll be demonstrating some Simple Fruit techniques at the Phinney Phruit Phest on Friday, August 19.  And you can join me on September 7 at Dish-it-Up for a class focused on cooking techniques with first-of-the-season pears and apples, peaches and pineapple. But for now, enjoy this simple recipe with fruit available at your local farmer's market.
Nectarines in Brown Butter
Serves: 4 persons
4 nectarines
3 tablespoons butter
2 tablespoons granulated sugar or honey
½ vanilla bean, scraped
1 teaspoon fresh chopped thyme
Wash the nectarines and slice them into 1/8 inch thick slices.
Heat a medium skillet on medium-high heat. Add the butter. The butter will melt, foam and then recede leaving bits of brown on the bottom of the pan. The butter will give off a nutty aroma when browned.
Add the sugar or honey and vanilla bean and cook until the sugar is dissolved, about 2 minutes. Increase the heat to high and add the nectarine slices. Sauté the fruit quickly, stirring occasionally. Add the thyme.
Serve the nectarines warm or room temperature, on their own, over ice cream, shortbread or pound cake.
Recipe by Laurie Pfalzer of Pastry Craft.