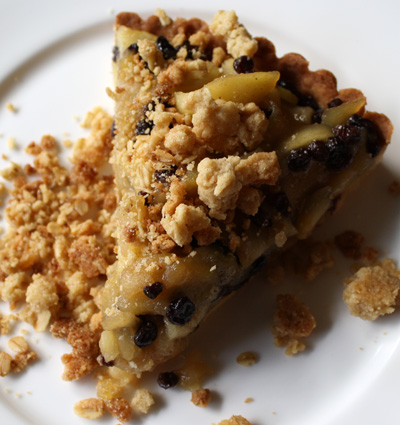 A simple apple tart. A crisp ginger crust. A perfect dessert for the holidays and throughout the winter. Think of fruit desserts as mostly about the fruit and just a little about the seasoning (here cinnamon and ginger). The brandy adds flavor but also mellows the tartness of the apples just a bit. Use the gorgeous apples at the farmer's markets this year. Even grocery stores are carrying new and different apple varieties.
My favorite apples for this tart are Northern Spy and Newton Pippin, often found at your local farmer's market.  You can mix and match a combination of tart-sweet and sweet apples which provide a nice balance of textures and flavors. Everyone has their favorite pie apple. If you're using just one apple, use a tart-sweet apple such as Fuji or Braeburn.  Combine a very tart apple like Granny Smith, which tends to hold its shape, with a sweet apple such as Golden Delicious or Pink Lady which will break down more and give your pie nice texture. If you frequent the farmer's markets, ask around for the farmers' favorite pie apples.  You will find a large variety of apples and lots and lots of helpful information. Farmer's love to talk about their apples!
In this presentation, I made it into a tart with a simple pate sucree crust. The streusel top is baked separately and then sprinkled over the top before serving. Prepare the apples a few hours ahead of time and let the flavors meld while they cool. Assemble the tart about an hour before serving to prevent the crust from becoming soft. For a simpler preparation, forego the tart shell and serve the apples warm in pretty dishes with the streusel sprinkled over the top and maybe a bit of soft whipped cream.
Brandied Apples with Currants and Ginger Streusel
Yield:  4 servings
Ginger Streusel
¼ cup all-purpose flour or whole wheat flour
2 tablespoons packed brown sugar
¼ teaspoon kosher salt
¼ teaspoon ground ginger
2 tablespoons rolled oats
2 tablespoons unsalted butter, cold
2 teaspoons chopped candied ginger
Apple Filling
2-3 apples, peeled and sliced
1 teaspoon apple cider vinegar
3 tablespoons granulated sugar (more for tart apples)
1/8 teaspoon cinnamon
¼ teaspoon ground ginger
1 pinch kosher salt
2 tablespoons currants
2 tablespoons unsalted butter
2 tablespoons brandy
Preheat the oven to 375°F.
For the Streusel:  Combine the flour, brown sugar, salt, ground ginger, oats and candied ginger in a medium bowl.  Cut the butter into ½ inch pieces.  With your hands or a pastry blender, work the butter into the dry mixture until the streusel starts to hold together. The butter should be mostly combined with the dry ingredients and the streusel should be neither dry nor sticky, but will hold together with a gentle squeeze.
Spread the streusel on a parchment-lined baking sheet. Bake the streusel for 15-20 minutes or until browned and crisp. Cool the streusel to room temperature. Store in an airtight container.
For the apples:  Combine the sliced apples and vinegar in a large bowl.  Toss with the sugar, spices and currants to combine.  Heat a large skillet on medium-high heat. Add the butter and cook it until it is browned and smells nutty.  Add the apples and cook them until they soften, but are not falling apart. Add the brandy to the apples and toss to combine.
Serve the apples warm or at room temperature sprinkled with the streusel. Top with vanilla ice cream or whipped cream.