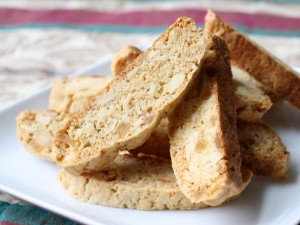 It's the first week of December and I am well into my holiday baking. This can be a challenge because it's also a popular time for classes.  I've been teaching regularly and this week I'll teach five classes. I've been teaching my Brittles and Barks class for PCC. Five down, four to go. It's race to the finish – or maybe more like a marathon. Either way, it's exciting to see all of my students learning how to temper chocolate and cook sugar for brittles. They are finding these to be the perfect edible gifts.
So while I'm teaching, I still need to make time for my own baking. It's the perfect time for me to treat friends and family to some of my specialties and a few new recipes too. This biscotti is in the "new" category.  I love biscotti and I have many winning recipes. But I wanted something new and different. This week on my kitchen counter were the makings of Stollen, a traditional German Christmas bread.  And those got me thinking that the same flavors would work perfectly in biscotti. So out of those ingredients (candied orange and lemon peel, almonds, dark rum and winter spices) and with the addition of crystallized ginger, I created a biscotti reminiscent of German Stollen.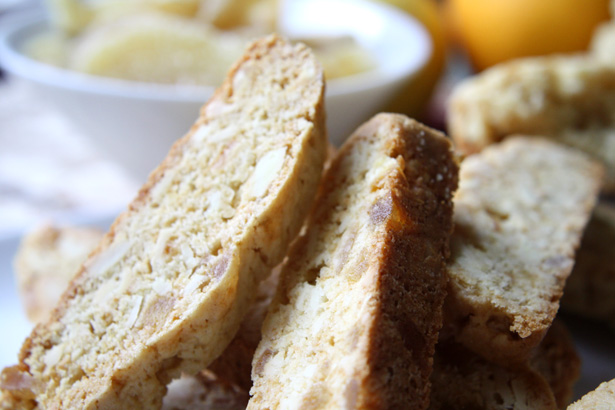 This is a slightly moist biscotti – no dunking needed. But it wouldn't hurt to experiment with dunking it in a little hot spiced wine, glögg or Vin Santo. Enjoy!
Candied Citrus, Ginger and Almond Biscotti
2 ¾ cups pastry flour or all-purpose flour
1 ¼ cup granulated sugar
2 ½ teaspoons baking powder
1 teaspoon kosher salt
Pinch each of ground ginger, clove and cinnamon
4 ounces almond paste, room temperature
½ cup unsalted butter, room temperature
2 eggs, room temperature
3 tablespoons dark rum
1 ½ c almonds (whole roughly chopped, sliced or slivered or a combination)
6-8 oz candied orange, candied lemon, and crystallized ginger
In a stand mixer mixing bowl, combine the flour, sugar, baking powder, salt and spices.  Break up the almond paste into approximately ½ inch pieces and add it to the flour. Using the paddle attachment, combine the almond paste and flour until the almond paste is reduced to very small pieces (smaller than pea size). Transfer the mixture to another bowl and set aside.
Cream the butter until smooth, but not light. Add the eggs one at a time and mix until combined, scraping regularly. Add the rum and mix until combine. (The butter will not combine completely with the eggs and will remain in visible pieces. This is okay.)
Add the flour mixture to the wet ingredients and mix until partially combined. Add the almonds, candied fruit and ginger. Mix until just combined, scraping well.
Prepare a baking sheet 16×12 inches with parchment paper.
Divide the dough into 2 even portions. Roll each portion into a log 14 inches long. (Using slightly damp hands makes this an easy task.) Place each log on the baking sheet allowing plenty of room for spread from each log. Again with damp hands, gently flatten the top of each log to about ¾ inch thick.
Preheat the oven to 300°F.
Chill the logs in the refrigerator for 30 minutes. Bake the logs for 25 minutes or until golden brown and somewhat firm when pressed. Cool the logs completely before moving on to the next step. Letting the logs sit overnight at room temperature is the best way to get a nice cut the next day. (The baked logs can be wrapped and frozen for up to one month.)
Lower the oven temperature to 250°F.
Cut the cooled logs into ½ slices. Lay the cut biscotti on a baking sheet cut side up. Bake the biscotti for approximately 15 minutes or until they feel dry on top. Turn each of the biscotti over and bake them again for approximately 15 minutes, again until they feel dry. The biscotti should dry, but have little to no browning. Let them cool completely before storing them in an airtight container at room temperature.  They will last for several weeks.