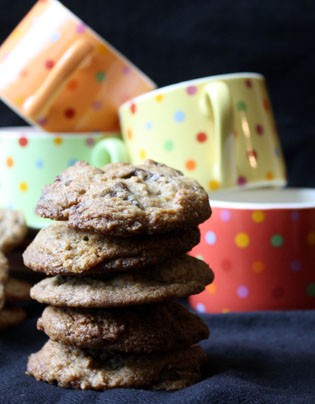 It used to be that the number one question I would get from my students is, "Do you watch Top Chef?" Thankfully, that question has taken a back seat to:  "Can I make this with whole wheat flour?"  This tell-tale question just shows that my students, like most other cooks and bakers I know, are trying to work whole grains into their diet.  And face it – we feel much better about eating bread and pastries when we can say they include whole grains.
My response to this question has become rote:  I tell my students that whole grains are fabulous in baking, but they should be used where they make sense, both traditionally and technically.  That is, ciabatta, a traditional Italian bread, is always made with white bread flour – completing the traditional appearance, texture and taste.  Yes, you could make it with whole wheat, but that would change the bread and it really wouldn't be ciabatta anymore.  The bottom line – use whole grains where they make sense and taste good, while enjoying pastries with white wheat flour also.
There are multitudes of traditional baked goods which incorporate whole grains: varieties of whole wheat bread, miche, volkhornbrot (100% rye), and a variety of other fabulous breads. Whole grain flours also work well and contribute flavor to many pastry items such as tart crust, shortbread, thumbprint cookies, biscotti, muffins and quick breads.  A delicate chiffon cakes begs for white cake flour, but a denser carrot cake could carry off some whole wheat flour nicely.
My general rule:  if I'm replacing white flour with a whole-grain flour, I start with replacing one-third of the total white flour.  If that produces a good result, I might continue to increase the whole grain flour (and decrease the white flour) as long as the result continues to have a palatable AND enjoyable flavor and texture. Using a whole grain flour just to incorporate whole grains, and turning your product into a dry, tough or unpleasantly grainy product makes this process a chore instead of a way to enjoy the amazing flavor, texture and healthful benefits of working with whole grains.
Often replacing white wheat flour with a whole grain flour can enhance your product. You discover added texture, flavor, a nuttiness, and substance to your product. And yet, the product is fairly unchanged. Other times the product can be changed completely, yet not undesirably and into a whole different product – one you hadn't imagined. This is the process of discovery – baking and experimenting.
Milk Chocolate Chip Cookies
This recipe was created from my basic chocolate chip cookie recipe with the idea that I wanted to make the cookie more substantial, add a nuttiness and yes, include whole grains. I conducted tests, starting with replacing just 1/3 of the all-purpose flour with whole wheat flour. Eventually, I replaced all of the white flour with whole wheat flour. But I also made some other adjustments – I added almond flour for tenderness and flavor and converted all of the sugar to brown sugar – a more moist option.  And I chose milk chocolate which compliments the nuttiness of the whole wheat.  The result is a rich chocolate chip cookie with great texture and flavor – and the added benefit of whole grains.
8 ounces (2 sticks) unsalted butter
8 ounces (1 cup) brown sugar
4 ounces (1/2 cup) nut flour, toasted
1 each large egg
7 ounces (1 2/3 cups) whole wheat flour
1 ¼ teaspoon baking soda
1 teaspoon kosher salt
8 ounces milk chocolate, chopped into 1/2 inch pieces
Toasted nut flours add a deep flavor to baked goods. To toast nut flours, spread the nut flour onto a baking sheet not more that 1/4 inch thick. Toast in a 350 degree oven for 3-4 minutes. Stir to even toasting. Continuing toasting until nut flour is lightly colored and fragrant. (Cool the nut flour before using.)
To make the cookies:  Combine the butter, brown sugar and nut flour in a mixer and combine. Do not cream and don't forget to scrape. Add the egg and mix until combined. Mix together the flour, baking soda and salt. Add the flour mixture to the butter mixture and mix on low speed until partially combined. Add the chocolate pieces and continue mixing until just combined. Portion the cookies onto a parchment-lined baking sheet and bake at 350 F for 10-12 minutes or until light brown.  Cool the cookies on a baking rack.  (This dough stores well in the freezer.) Check out 5 Tips for Cookies for more information.