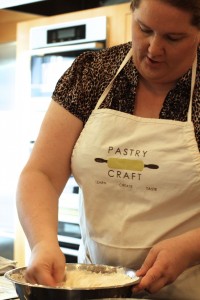 I've taken a bit of a break from posting on this blog – for many reasons. But mostly, it's because I've been so busy teaching.  I hope you have all not deserted me in the last few months!
At the beginning of each class, I give a short history of my experience – what I did before teaching and where I'm at now. As I was giving my introduction the other day at a class, I realized that it's just a snippet of my life in pastry. So this is for all of you who have always wondered how I got to this place.
My life has been a bit of a journey. A fortunate one at that. I spent many successful years in a different field before I made the critical decision to attempt pastry school. And with that decision, I also moved away from my home in Seattle to live in New York, go to school and experience the East coast. Like anyone, I don't like to regret decisions, and I've never regretted that one. I loved going to school, immersing myself in the culinary world.
You might not know that I didn't start culinary school as a baker. Yep, I was going to be one of those hot side cooks. But after basic skills and my first few cuisine courses, I came home one day and told my roommate, "I think I'm a baker." Not that I didn't love the hot side and I appreciate the skills I picked up in those first few months of culinary school. But these days, culinary school is deftly divided between culinary and baking and pastry with very little cross-over. I was craving getting into the baking and pastry kitchen. So I transferred over to the cool side and have never looked back.
I love the hustle of a professional kitchen. You work hard. You work fast. And you work more than you ever have. It's hectic and hot (even in many pastry kitchens), exciting and exhilarating, and a huge education. At the end of the day you point to what you've created, hear the oohs and ahs from guests (via fine front-of-house staff) and you go home happy. Every day brings repetition and also something new.
I often get asked if I miss being in a professional kitchen. Going to culinary school in my 30s wasn't the easiest thing I've done. You are side-by-side with students nearly half your age who have nearly twice as much energy (or at least think they do, which can go a long way for them). The professional kitchen was certainly made for the young. But it was also made for those of us who have some life experience, no matter the type of experience it is.
My favorite experience in the professional kitchen was teaching others to do what I knew. I enjoyed seeing them succeed. I could remember being there myself – the anxiety, the concentration, the drive to be better. More important, I always learned something from the person I was teaching and that made me better too.
When I decided to make a move away from the professional kitchen, I knew I wanted to teach. Baking and pastry isn't rocket science. But it does take good instruction and some dedication to get it right. That's what Pastry Craft is all about. I had been a home cook and baker for many years before taking the culinary school path, so I knew I could relate to home cooks.
Can home cooks do what the professionals do? Yes, there's no doubt. I have a variety of students. Sometimes, we spend the entire lesson troubleshooting problems. Other students want to learn a skill that has eluded them. And some students have never even baked, but they feel they would like it, if only they had the right instruction. It comes down to those "ah-ha" moments when I see the nodding and recognition as students begin to understand and I know I've got them thinking. In the end, it's the connection with students that makes it all work it.