It's pretty inspiring to have a chance to be with a vibrant group of bakers (both professional and home), grain millers and grain growers for three days. We're all speaking the same language – albeit from a different perspective. This was my second year at the Kneading Conference West and I always walk away from it inspired about not just bread baking, but the flavor and character of whole grains in all its forms. I also always spend the conference hopped up on carbs (i.e. excellent bread and pastry) and caffeine (always lots of coffee around).
Keynote speaker on day one was Darra Goldstein, Editor of Gastronomica: The Journal of Food and Culture.  Before we all ran off to talk formulas, protein content and the effects of amylase, Professor Goldstein started us off with an eclectic discussion of "Bread Culture", focusing on bread and its appearance in art such as in a Salvador Dali painting and in The Gleaners by Jean-Francois Millet. She reminded us it's important to consider the culture that surrounds bread, as well as the science behind it.
Also keeping our eye on culture as well as a variety of bread and pastry (all focused on whole grains) was Naomi Duguid and Dawn Woodward, mainstays at the conference.  Naomi and Dawn teamed up for workshops on Yeasted Crackers, Flatbreads from the Tandoor Oven, and Whole Grain and Multi Grain Baking: Cookies, Cake and Montreal-Style Bagels.  Naomi and Dawn are the perfect combo, bringing both culture and baking science to their workshops.  While working with buckwheat flour, Naomi explained the origin of the French buckwheat crepe.  During WWII, the German army confiscated all of the wheat. French women, having no wheat to bake with, turned to buckwheat to make their traditional crepes. Buckwheat crepes are still considered traditional in France, having survived more than a generation of French cooks.
I love that Naomi and Dawn instill a feeling of relaxation while baking.  Although Naomi claims that she's a little more lax than Dawn (the quintessential professional baker), they both make students feel at ease. Naomi says, "Try to forget all of your preconceptions and anxiety about baking and just bake."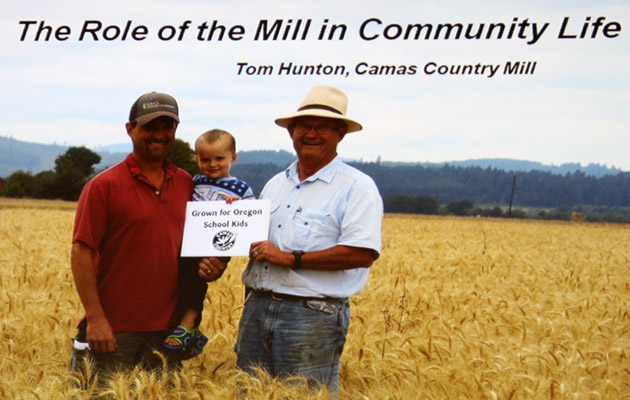 Tom Hunton, owner of Camas Country Mill in Oregon told us his intent is to create a community food habitat by connecting growers, consumers, distributors and bakers. Camas Mills provides whole wheat for four school districts in Oregon, as well as lentils and barley for the Oregon Food Bank.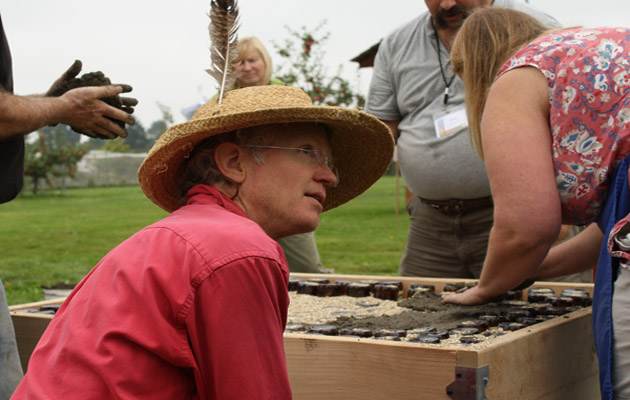 Kiko Denzer, the resident earth oven designer and construction manager, supervised conference attendees as they created an earth oven to be auctioned at the end of conference.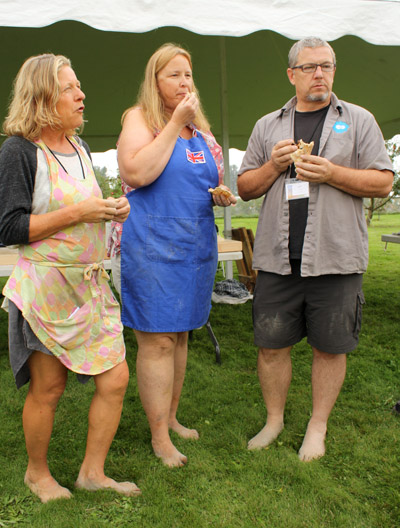 Constructing an earth oven can be messy work, so you need a naan break to keep you going. You also need bare feet to mush up the mud. Lucky Kim pictured here in the blue apron was the winning bidder for the oven.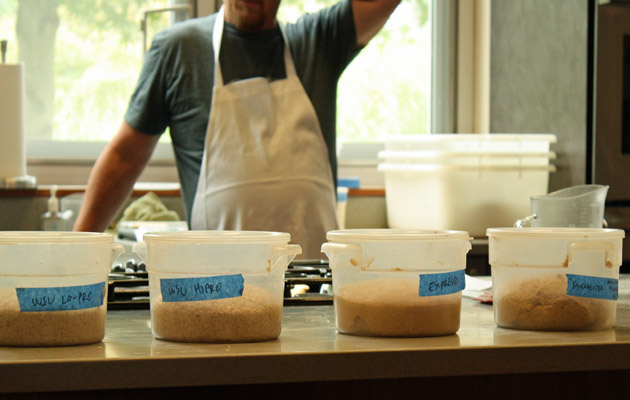 Scott Mangold, co-owner and head baker of BreadFarm in Edison, Washington (just up the road from the conference), demonstrated whole wheat bread doughs using four different wheat varieties. His goal at BreadFarm is to draw out the maximum flavor from the grain without compromising the dough. BreadFarm also makes some of the tastiest cookies I've ever tasted. Mangold accounts for their extraordinary flavor from the organic butter and sugar they use at BreadFarm.
The entire conference is located on the grounds of the Washington State University Extension and Research Center in Mount Vernon, Washington. Stephen Jones, PhD, director of the center, grows 40,000 types of wheat, helping to establish successful and flavorful wheat production in the fertile but often wet Skagit Valley. You can read Dr. Jones' article published last November in Gastronomica here.
The grounds of the center are also the home of the Western Washington Fruit Research Foundation,  as well as WSU's own research orchards. This time of year the trees are dripping with apples and pears and grape arbors are heavy with nearly ripe fruit, but we're warned not to taste from the orchard.
If you're interested in next year's conference, you can sign up for the Kneading Conference Newsletter here. My recommendation – sign up when registration starts because it always sells out.